For the Champions League race, Arsenal has become unstoppable with back-to-back wins against big-league teams and securing the fourth spot in the league. It's hard to believe that gunners who previously lost their matches against the league's low-ranking teams.
But the way Arsenal shifted their gears and got into the rebellious mode to secure the Champions League spot after long years. Yesterday, Manchester United visited Emirates Stadium with the return of Cristiano Ronaldo and fans were hoping to get the better side of the red devils.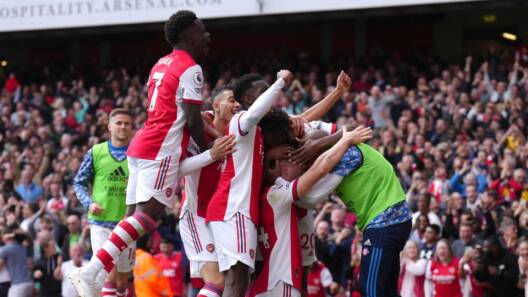 But unfortunately, Arsenal dominated at their home ground and demolished United badly. From the beginning, Arsenal was in full charge to hold the position and have firm control over the possession throughout the game.
Cristiano Ronaldo scored his 100th Premier League goal, although despite him scoring still his side lost another consecutive away match.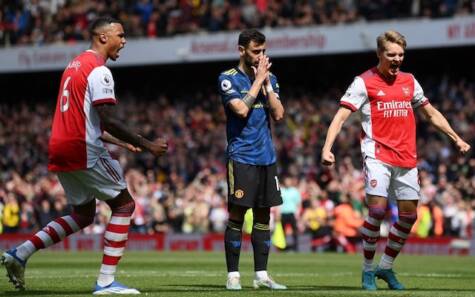 There was a chance for Manchester United to recover and equalize the score but Bruno Fernandez missed it.
Arsenal is on their way to the Champions League
The match began with the pure dominance of the home players because within three minutes Saka hit a great shot but De Gea made a great save with the poor defense Nuno Tavares was there to tap in and give his side a one-goal lead.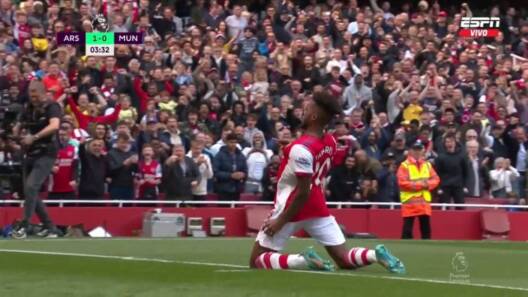 Arsenal was in full mood to grab another win and claim the fourth position in the league. in the 32nd minute, Arsenal won the penalty and young Saka placed the ball to find the sweet spot in the net. And of course, he scored the goal to double the lead. But Cristiano Ronaldo didn't let the home side celebrate for too long and scored his 100th Premier league to give some hope.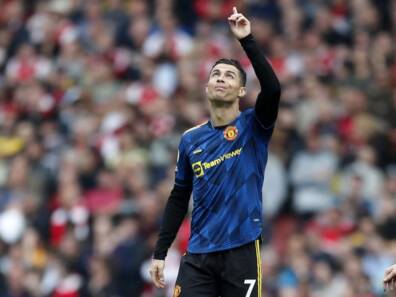 He dedicated his goal to his late newborn son who lost his life a few days back. Manchester United got the opportunity to equalize, but unfortunately, Bruno Fernandez didn't choose the right spot to score the penalty and hit the post.
It was a great happiness moment for Aaron Ramsdale who showed great performance in the match. In the 70th minute, Xhaka with a brilliant strike outside the box and gave his team a triple goal lead. His goal stunned everyone and Arsenal fans went crazy.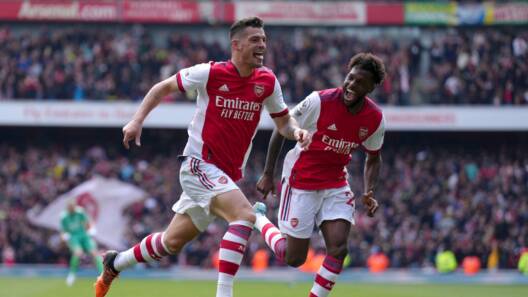 Three days ago, Arsenal met Chelsea at Stanford Bridge and the Gunners have sabotaged Chelsea's defense brilliantly.
'Magnificent Performance' – Mikel Arteta
Arsenal manager Mikel Arteta couldn't hold his emotions and expressed his happiness after a great win over Manchester United. "Our people again, the atmosphere they created today, thank you so, so much to all of them to come and help the team," he said after the game.
"Because today, after two days of recovery after Stamford Bridge, the players weren't at their best physically to do it, and that energy was crucial in my opinion to what happened."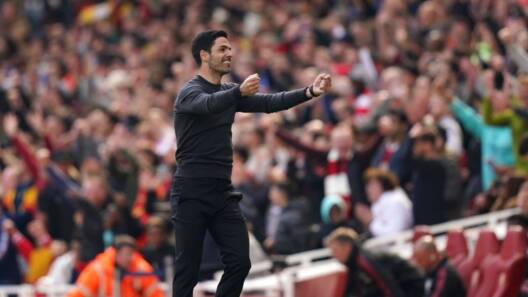 A fans group, Ashburton Army, arranged a tifo display before kick-off, and Arteta said such acts are making a difference.
"It's the initiatives they are taking, all the atmosphere was outside the stadium early before the match. The way they support the team, even when a player makes a mistake they got right behind them. They are playing the game with us and that completely changes our ability and our potential in my opinion."
Arteta also reserved special praise for Granit Xhaka, whose first goal of the season gave us breathing room again in the second half.
"It's the maturity that he is showing," he added. "It started with the interview he made a few days ago, it's the initiative that he takes in the games.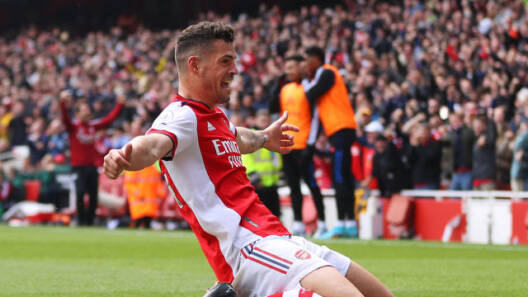 "The whole moral that he is in the dressing room and how he handles his profession. I'm so happy for him because he deserved a moment like that today in front of the fans."
"I was dreaming of that because he deserves it," the manager said. If any fan would spend two minutes with Granit they would understand the person that he is and how much he loves the club.
"He opened up because he feels the environment is there to protect him. Thank you to the fans for that."
'RollerCoaster finish' – Mikel Arteta
He further said, "A big performance in a game that had everything," the Spaniard told BT Sport. "We had moments where we showed real quality and were a threat.
"We scored two goals, created chances, a game where we had to suffer and were a bit lost and lacking energy and they were on top.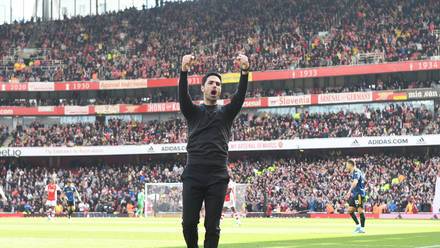 "It was a game where we were efficient in the boxes. We had luck when we needed it, which is important.
"But overall, I'm extremely happy, it was a massive game for us and we enjoyed it."
Ralf Rangnick was unhappy with the VAR decision
Ralf Rangnick the interim manager of Manchester United looked unhappy with the VAR decision, despite Bruno missing the penalty there was another penalty but it was not given.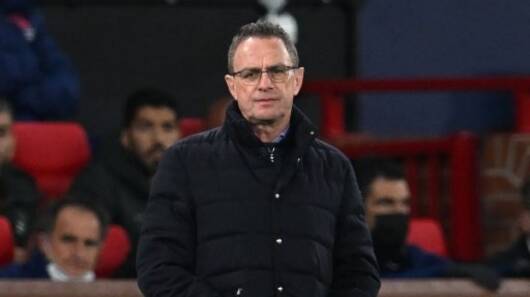 "There was another handball issue in the first half, Jadon Sancho was involved," Rangnick said. "The second goal of Cristiano was not offside and you can even see it in that total perspective exactly in one line. I just saw it right now after the game and if this is the right picture, and I suppose they showed me the right picture, you could see it. It was one line in one line.
"Their third goal was offside, I spoke to David de Gea after the game and he said to me he just couldn't see the ball because Nketiah was in between Granit Xhaka and himself. They checked it but for whatever reason still gave the goal.
"Anthony Elanga was arm-in-arm with [Tavares], the other player with him. At least, also questionable. The other three situations were clear. This is why we have a VAR and you should expect the VAR plus the referee, if they're checking situations they come to the right decision.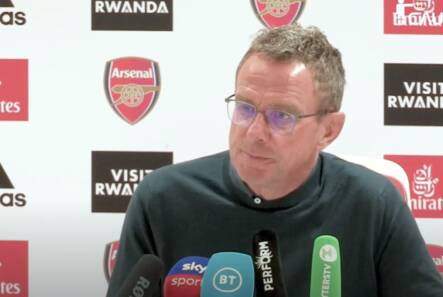 "We were at least unlucky with those three or four moments but, again, we have to just get better defending in the box and until five or six weeks ago we were on a higher level. And even in the pressing moments, whenever we pressed Arsenal today we caused problems for them.
"But we did not do that often enough, we should do that more often, with more intensity, with more players involved. If all of the players sprint against the ball it has a higher effect than it had today."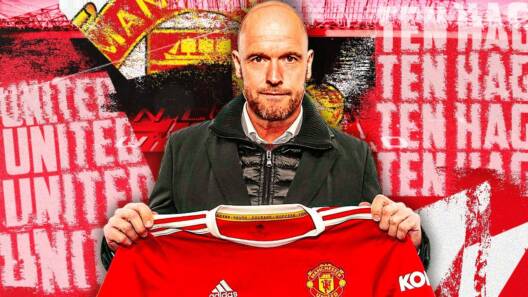 A few days back, Manchester United officially appointed a new manager Erik ten Hag who was previously managing Ajax club. On Champions League admission Ralf said, "For me, even before the game it was not very likely, but after today's result it is gone, yes," Rangnick told BT SPORT.
"There is a lot of work to do here for sure, he [Ten Hag] knew that even before the game.
"But we showed what kind of football that we can play."
Paul Scholes called Arteta 'Disgrace'
Former Manchester United player Paul Scholes called Mikel Arteta a disgrace following a key incident during Arsenal vs Man United. He said, "I didn't think of the foul, to be honest. That brings into question whether it's an obvious error, which is the only reason it should go to the VAR.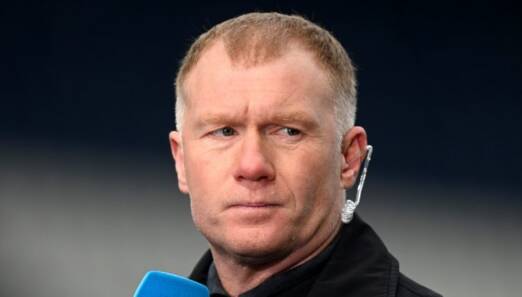 "It's a coming together, of course, it is." Scholes then went on to lament Arsenal boss Arteta, who walked in front of referee Craig Pawson to complain before the official awarded the Spaniard's side the penalty.
Scholes added: "I think Arteta is a disgrace there. He shouldn't be allowed to do that."If you see it again, he goes to the crowd to try and influence the referee a little. All the players around them as well."That shouldn't be allowed. But it's a little bit clumsy from Telles."
What do you think of the story? Tell us in the comments section below.