The saga of PML-N leader retired Capt Mohammad Safdar's arrest in Karachi continues, amid all the brouhaha, Army Chief General Qamar Javed Bajwa has now taken notice of the incident. He has ordered an immediate inquiry into the "Karachi incident".
Army Chief has asked the Karachi Corps Commander to "immediately inquire into the circumstances to determine the facts and report back as soon as possible", said an Inter-Services Public Relations (ISPR) statement on the matter of Capt Safdar's arrest in Karachi.
Meanwhile, the ISPR did not specify which incident it was referring to.
ISPR's statement comes after PPP Chairperson Bilawal Bhutto-Zardari called on "institutions" to investigate the matter around Safdar's arrest yesterday.
Safdar was arrested from a Karachi hotel early on Monday morning and was later released on bail. PML-N Vice President Maryam Nawaz and Safdar were in Karachi to attend the rally of the Pakistan Democratic Movement (PDM).
Bilawal said top officers of Sindh Police wondered "who were the people who surrounded" the Sindh police chief's house on Monday. He said they took him to an unspecified location before Safdar was arrested.
He demanded to know the identities of "the two people who went inside the IG's house". They allegedly took the police chief at around 4am.
'Demoralised and shocked'
Meanwhile, at least two AIGs, seven deputy DIGs, and four senior superintendents of Sindh Police on Tuesday applied for leaves. They seek to "come out of […] shock" caused by the "recent episode of registration of FIR against Capt (R) Safdar".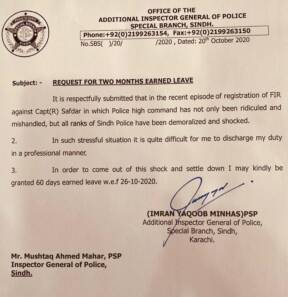 Moreover, all the applications were similar and were submitted to Sindh IGP Mushtaq Mahar. The officials said that it had become hard for them to "discharge [their] duties in a professional manner" due to the stress caused by Safdar's arrest.
Maryam along with her husband and other PML-N leaders had visited the Mausoleum of Quaid-i-Azam Muhammad Ali Jinnah on Sunday.
At their visit, Safdar started to chant the party slogan "Vote ko izzat do [respect vote]" and urged others to join him. The next day, he was arrested for disrespecting Mazar-e-Quaid.
Meanwhile, on Tuesday, Safdar unapologetically said that he would continue visiting Mazar-e-Quaid on every October 18. Safdar said he would chant the slogan, "long live the mother of the nation" again and again. Safdar added he wanted to give a message to people that had called Fatima Jinnah a traitor. "What was wrong with that?" he had asked.
What do you think of this story? Let us know in the comments section below.