Known for calling spade a spade and voicing her opinions, Armeena Khan recently penned down her thoughts on how some individuals are advancing their acting careers using 'religious extremism'. However, her remarks seem to have irked the former actor Noor Bukhari.
Khan has a massive fan following on social media. Unlike many other celebrities, we often see her using social media platforms to raise her voice on important issues. The Bin Roye star on Tuesday spoke about religious extremism playing its way into Pakistan's entertainment industry.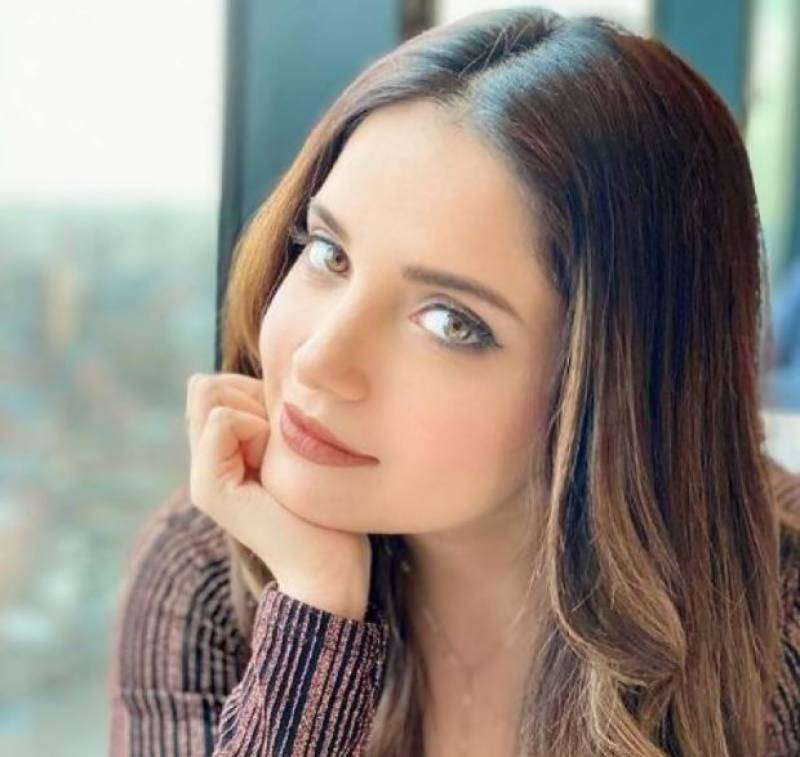 Not caring about the consequences, and rightfully so, Khan took to Twitter and pointed out, "Advancing acting careers using religious extremism seems to be quite the 'in' thing these days". She then asked with a giggling emoji, "Can't make it without huh?"
Additionally, she went on to elaborate on her jibe in another tweet. "I've also observed that no matter what religion you follow if you're an extremist then your interpretation of that religion will be extreme also," she wrote. On the other hand, she reinstated how a "well-balanced person" will interpret their religion with just that – "balance."
Did Noor Bukhari take her remarks personally?
Even though the Janaan star did not name anyone, Khan's remarks irked one former Lollywood actor. Noor Bukhari took to Instagram and wrote, "Seriously? Did I just read religious extremism seems to be quite in? May Allah guide them".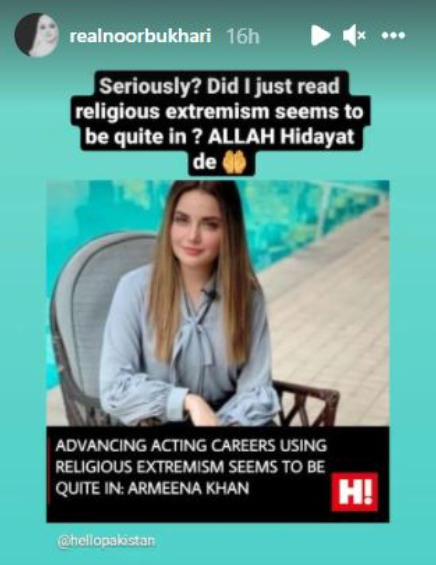 Meanwhile, in order to clear the air, Khan once again took to Twitter to spell out that she did not direct her previous tweets at anyone. "I'm really disliking the fact that my tweets are being attributed to specific artists," the actor stated. "Please bear in mind that I have not named anyone nor do I indulge in personal attacks, that is not my style. My commentary is on the general, sudden right-wing 'shift'."
Taking a jibe at Bukhari's comments, Khan posted another tweet.
Given that Bukhari quit the entertainment industry to turn towards religion, Khan's remarks appear to have rubbed her up the wrong way.
Nonetheless, it is pertinent to mention that many actors have quit acting in order to follow a religious path. Take Sanam Chaudhry for example. She recently announced her decision to turn towards Allah. Although she did not officially declare to quit the entertainment industry, she deleted all of her Instagram photos. More so, her Instagram bio now reads, "A Muslim, a mother and learning Islam, the deen of our creator Allah".
Previously, Hamza Ali Abbasi also announced to quit acting to follow the religious path. However, he soon took a u-turn claiming that acting is not 'haram'.
Come to think of it, there is a harsh reality in Khan's point. Don't you agree?
What do you think of this story? Let us know in the comments section below.