This week, the city of Manchester was city by a tragic attack that was the most devastating in the history. The suicide attack took place on Monday evening and took lives of 19 people and left 50 people injured. The explosion occurred at a concert of Hollywood prodigy, Ariana Grande at Manchester Arena. The incident was imminently branded the terror attack and completely shook the world.
Terror attacks regardless of where they take place are condemnable on all grounds. They are absolutely devastating for humanity and us Pakistanis can certainly empathize with the world that's been getting hit with terror attacks recently. Our nation has bled and terror attacks have claimed millions of lives in our own country. Considering that, who can better empathize with the people who have begun to suffer from such atrocities now? Surely, tributes in solidarity with Manchester attacks continued to pour in at large. Celebrities, local people from all walks of life and all around the world stood up for humanity and condemned the attacks. One of our celebrities, Armeena Khan, whose certainly a sensation in the entertainment prospect played her part. However, what followed it was not okay…
Armeena Khan raised her voice in solidarity with the Manchester attack victims
But it followed these shocking comments that expose our insensitive society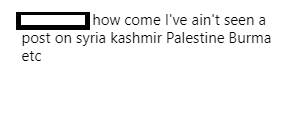 Another one…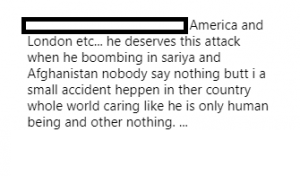 Disturbing…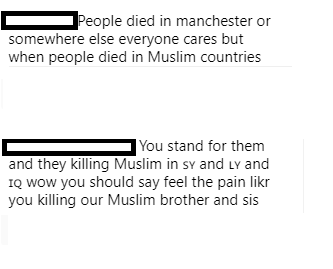 Yet another insensitive comment…

Why do people have to behave like that? It's very insensitive. The world is shockingly divided on these terms as well.
Shortly after, Armeena spoke about the unrelenting hate she received on Instagram
There is abuse and then there is ABUSE. I've been called every name under the sun because I sent out condolences to my HOME city??

— Armeena Khan (@ArmeenaRK) May 23, 2017
What do you guys think about all the negative comments on her post? Do you think it is ever justified to lash out one's own agenda on such sensitive matters?