Islam has been declared as the most civilized, logical and truest religion. The followers of Islam can find the reason for all the rules, regulations, practices, commandment given by Islam through proper research. But these days, due to lack of information, we criticise and defame others as they are not following the right ruling of Islam. And unfortunately, this right is right for us only!
Recently, when Imran Khan married Bushra Manika, people claimed that Bushra was in iddat when she married Imran Khan and he disclosed it afterward. And now the marriage of Pakistani actress of Golden era, Arifa Siddiqui took social media by storm.
According to media reports, Arifa's former husband, Ustad Nazar Hussain passed away in January 2018 and right after two months, she has married Tabeer Ali who is a struggling infamous singer who is also younger than Arifa also. Arifa Siddiqui has broken the news of her marriage with Tabeer Ali on social media.
https://www.facebook.com/Afi9999/posts/754088044798302
Due to some other media reports, after the nikaah, Tabeer has gone to Arifa's house instead of Arifa's rukhsati. Both have shared pictures on their social media accounts as well.
https://www.facebook.com/tabeeralikazmi/posts/1650414555045412
Arifa wrote on her timeline.
https://www.facebook.com/photo.php?fbid=755425284664578&set=a.152394308301015.1073741827.100005913402487&type=3&theater
https://www.facebook.com/photo.php?fbid=754595784747528&set=a.152394308301015.1073741827.100005913402487&type=3&theater
When Arifa informed her fans, a mixed reaction has seen.
Point…

Absolutely Not!

Yes!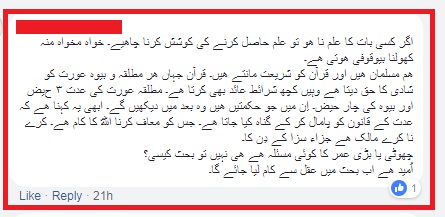 Cahlo Jee Sab Haraam!!!

Ooops!
Arifa Siddiqui is a well-known TV actress and singer of Pakistani media industry. The versatile actress is the daughter of Talat Siddiqui and cousin of Fariha Pervez. She has done numerous roles on mini screen but her role in "Miraat ul Uroos" is still remembered today. Arifa is so passionate about music that she wanted to be a singer but our luck decides our way! Then, she married Ustaad Nazar Hussain happily at an early age and said goodbye to the media industry shortly afterward. A very talented actress of Pakistani media, Arifa Siddiqui's second marriage brought her back to the limelight but for all wrong reasons.
We hope that Arifa would respond to all these questions otherwise the moral police of social media will never stop criticising her.