As the old adage goes: "Aurat ko chadar aur char diwari mai rehna chahiye" – meaning a woman should remain veiled and within the four walls of her home, seeing them protest for their basic rights and equality never sits well with some misogynists in our country.
Since 2018, Aurat March has been held in many cities across Pakistan to coincide with International Women's Day on March 8. Those who take part in this often face intense backlash, especially online. But not only that, some have also received death and rape threats in the past. Well, it faced the same backlash this year, however, this time the opponents accused the participants of alleged blasphemy.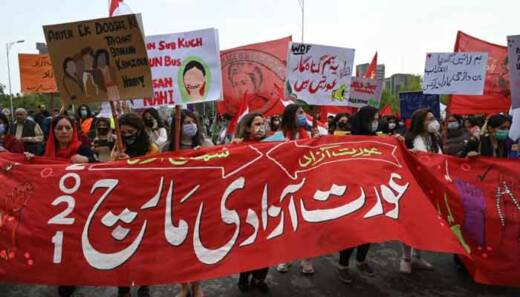 This year, as it appears, the voices on both sides of the debate have grown louder in the lead-up. Religious and conservative groups have always incriminated the march to be against Islam.
The idea for Aurat March began when a few women decided to call up their networks and gather in a park in Karachi on International Women's Day to ask for an end to violence and harassment.
It has since evolved into a wider movement, including transgender people, demanding better laws to protect women and enforcement of existing laws, as well as raising awareness and changing attitudes.
The slogans and chants this year drew wider and critical attention to the movement. Participants faced criticism and abuse in the mainstream media, alongside intense trolling online. Meanwhile, a manipulated video of the march is being circulated on social media which claims an act of alleged blasphemy.
Here is the video
However, the women in the video are not chanting anything close to what's being claimed.
Regardless, misdirected groups of people continue to demand a protest against the Aurat March under the hashtag of #DharnaAgainstAuratMarch on Twitter.
"In the entire tweet, you have written only Imran correctly. Rest, it's Ismail, not Iqbal, it's mullah not Allah, it's Fazlo not Rasool. Having a difference of opinion is fine. But it is not right to lie and provoke people based on religion, and put others' lives in danger," said Shafaat Ali.
Social media users have unleashed a barrage of misogynistic abuse. Even last year, the controversy reached the court in Lahore. A petition was filed to stop the march from going ahead, arguing that its aim was to "spread anarchy, vulgarity, blasphemy and hatred" of Islam.
Nonetheless, the fact that women are unable to demand their human rights without being put in very real danger underscores just how important the Aurat March is.
What do you think of this story? Let us know in the comments section below.