The earth did not explode nor the sky fell when little Zainab was raped and brutally killed. Yes, we are mourning today for another Zainab who was taken away from her loved ones and abused in Charsadda district of Khyber-Pakhtunkhwa (K-P).
If your heart hasn't turned into a stone after reading more and more child abuse stories in Pakistan, let us give you details about what actually happened to this Zainab.
According to reports, unknown men had abducted the little girl, who was just two-year-old, yesterday. And, today we found her lifeless body while the law enforcement and government remained clueless.
The toddler was raped and tortured to death. Hospital sources have confirmed that Zainab was raped. Meanwhile, her body has cut marks on her chest and belly.
According to the residents, Zainab had gone missing on Tuesday evening in Sheikh Kallay Qilla area. She was playing with other children outside her house.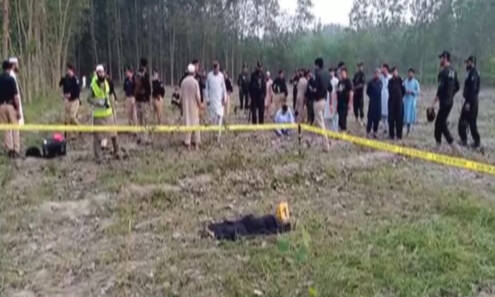 A day after she went missing, the Prang police got information about Zainab lying in Jabba Korona area. The Prang and Daudzai police recovered the body. After that, they shifted it to the Lady Reading Hospital in Peshawar for postmortem.
On the other hand, Chief Minister (CM) Khyber Pakhtunkhwa Mehmood Khan has ordered the IGP and other officials to immediately arrest those involved in the incident.
The CM said that those involved in the incident would be giving severe punishment by the government. He also added that the incident is very heartbreaking and inhumane.
How many Zainab's will be sacrificed? Ask angry Pakistanis on social media
The horrific incident of the Zainab being abused and killed in Charsadda has angered social media users across Pakistan. However, such incidents are recurring on a regular basis and no serious action has been taken.
Now social media will talk about the incident for another two days until they get new news.
Horrific increase in child sexual abuse across Pakistan
It is appalling to see that sexual violence is slowly becoming a norm in Pakistan. The Charsadda incident is similar to the murder of 7-Year-old Zainab in 2018. She was the victim of a brutal murder. Police were able to recover her body from a roadside pile of a dump in Kasur, Punjab.
More than two years after the incident, the National Assembly had passed the 'Zainab Alert, Response, and Recovery Bill 2019'. The bill sought to expedite investigation and punishment for perpetrators of child abuse. But even after passing the bill, there has been an increase in child abuse cases across Pakistan.
The rape and murder of five-year-old Marwah in Karachi was another recent shocking incident that terrified the country. She went missing before her body was discovered near her house in Essa Nagri, Karachi.
In Pakistan, children are subject to abuse in every way possible. Hearing stories of abuse and just imagining them going through all of this so painful. People have literally become some worst kinds of animals and they have no humanity left in them.
The change will only come when the citizens start fighting for these issues. We have to collaborate with the government, media and law enforcement agencies to eradicate this social evil.
What do you think of this story? Let us know in the comments section below!