As it appears, Pakistani students are setting a rebellious trend of proposing their better halves despite the surreal consequences. Yet another proposal video from a Pakistani university couple emerges on social media right after the proposal video of University of Lahore's students became viral.
In the clip, a boy is seen going down on his knees, and with a bouquet of flowers, he proposes to his, who we assume to be his girlfriend. As she accepts it, the two lean into a hug, seeming like a rather movie-like scene. The girl can also be seen giving a peck on the boy's cheek.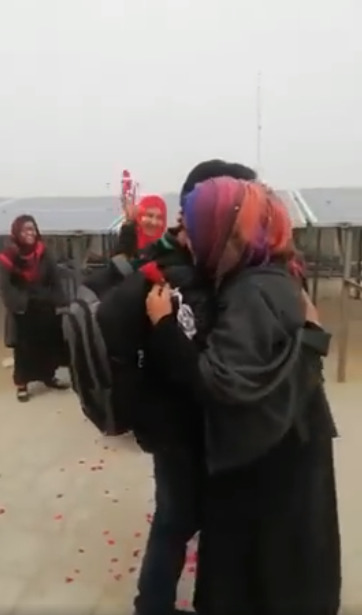 Subsequently, their friends cheer on them, and shower them with roses as the couple embraces each other in their arms. In the video, flowers can be seen all over the ground, and an 'O heart R' written inside a heart of petals.
As of now, it is not known which Pakistani university the couple belong to, but for sure it requires guts to present such a proposal right after the UoL couple got expelled.
After years of watching romantic movies, public proposals have become every girl's dream. Imagine a guy expressing his love, down on his knees, asking you to marry him? That is exactly what happened here.
Take a look at the video!
As we came across the comment section, you can only imagine how cruel the comments were. People were quick to bash. They brought in ethical issues, moral issues and discussed religious limitations to the expression of love. To sum up, the taunts were quite brutal and harsh.
The video comes in not too long after the UoL's couple. Last week, a video clip of a girl going down on her knee with a bouquet in her hands to propose to her beau took the Internet by storm. It spread like a wildfire with social media users enjoying it.
However, it was only a matter of time that the video reached the university administration, resulting in the expulsion of the two.
The university on Friday released an official notice and made the decision to expel both the students from the university. Not only that but it also debarred them from entering the premises of the university. Nonetheless, do you know that those two have now tied the knot? Well, yes!
While some universities are busy catching the couples on campus and expelling them, IBA students have created a dating site for themselves. Universities have always been a hub of dating. So why not just embrace it, and make it easier for the students? It was rather prude of UoL to take such an extreme action against the couple who were merely expressing love.
What do you think of this story? Let us know in the comments section below.