Over the last few years, the government of Pakistan has taken many initiatives in a bid to protect the wildlife in the country. Law enforcement authorities have taken strict actions against illegal hunting.
This notion, however, takes a complete turnaround whenever an influential person is involved. A recent hunting incident in Chakwal proves that the law is different for ordinary citizens and well known famous faces.
As per reports on social media, a case was recently registered against TV anchor Imran Riaz Khan for hunting partridges in the forest of Chakwal. Wildlife Department Chakwal registered the case. However, as per details, the accused fled from the scene.
Meanwhile, Ghulam Rasool, Deputy Director Wildlife (OPS) Salt Range, Chakwal was suspended for letting the anchor and his party do illegal hunting.
According to Deputy commissioner Chakwal, the Wildlife Department Chakwal under the supervision of District Officer (Wildlife) Abid, arrested two persons. Moreover, Rs150,000 were imposed on them while their vehicle was confiscated
Netizens express shock & anger over illegal wildlife hunting in Chakwal
Social media is on fire ever since the news broke on the Internet. Prominent journalist Hamid Mir strictly condemned the incident. He said to hunt precious birds and decorating them on a car shows how people abuse their power and wealth.
Mir added, the action of the higher authorities against a weak employee of the wildlife department will not reap any results.
Meanwhile, journalist Asma Shirazi also agreed with Mir and condemned the incident.
Meanwhile, Pakistani social media users want strict action against all the culprits including the TV anchor.
In Pakistan, people kill rare animals & birds as a hobby!
This is not the first incident of wildlife hunting in Pakistan. In April 2020, a civil servant named Atiq Malana, working as an assistant in DC office D.I. Khan was caught proudly showing the hunting of Rosy starlings.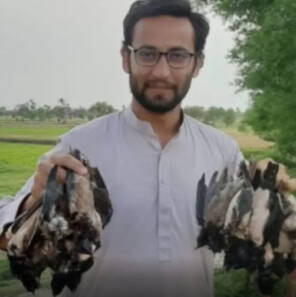 Earlier in 2020, another D.I. Khan hunter killed sparrows as a lockdown hobby. He was later arrested by the local police.
Images of insensitive humans ruthlessly killing innocent animals can certainly shake people to the core. What makes such incidents more appalling is that these actions are done by influential individuals.
Such incidents depict the inhumane nature of such inhumane beings. Innocent animals deserve protection. Just because they aren't human doesn't mean that their lives aren't precious.
The government must create rules and regulations to stop such incidents from happening in the future. Because only this way we can protect wildlife in Pakistan.
What do you think of this story? Let us know in the comments section below!