Fakhr-e-Alam recently had a close brush with death, and the popular host took to Twitter to share his ordeal of how a reckless driver rammed into his car.
"It was a close call to what would have been most certainly a fatal accident," Alam shared. "This milk truck from Chiniot without indication made a U-turn from the far out lane forcing our vehicle to take evasive measure missing the truck, hitting the divider, and ending up on the other side."
The pilot cum actor then revealed how his car "once tossed to the other side we narrowly missed oncoming traffic." He added, "The fact that the driver and I have walked away alive is nothing short of a miracle. These truck operators without proper training are allowed on our roads endangering all of us and our loved ones".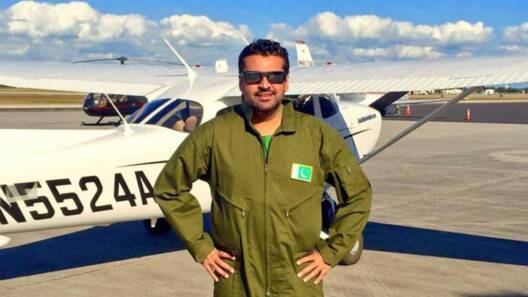 Overwhelmed by the near-death experience, Alam further added, "I am grateful to Allah that I will once again get to see my children but there are many who have never returned home because of extremely poor road safety and dangerous drivers. Tonight I followed up with Islamabad Police to do whatever was possible legally to stop this driver."
"The traffic warden stated that the truck was wrong, the driver had no ID card, no license," Alam continued. "All I want is for Islamabad Police to make sure he never drives again and endanger anyone else's life. He wrote a confession and maafinama [an official pardon], I just don't want any family to be a victim of his."
Fakhr-e-Alam has an important message for all!
In the end, the Bolain Kya Baat Hai host had an important message for everyone. He asked the public to report dangerous drivers. "Please wear a belt, it saved my life today and above all the law enforcement must not allow for such irresponsible people to drive on our roads," he concluded.
The Twittersphere was glad to find Alam safe and sound.
Pakistan cricketing star Shoaib Malik encountered a similar happening wherein he survived a horrific crash when his sports car rammed into a truck in Lahore. The 38-year-old encountered the accident just after attending the Pakistan Super League (PSL) draft event at PCB headquarters in January.
The cricketer was coming out of the National High-Performance Centre (NHPC) in his sports car. Subsequently, he lost control and it rammed into a truck parked outside a restaurant. Meanwhile, some media reports claimed that Malik was racing his car with allegedly racing with Wahab Riaz. Fortunately, Malik remained unhurt while his car suffered damage on its front side.
What do you think of this story? Let us know in the comments section below.