This is a guest post submitted by Sarmad Iqbal. All views expressed in this article are of the contributor.
Last week, I had the pleasure of sitting down for a virtual conversation with young and now celebrated Palestinian award-winning author Chaker Khazaal.
He has lived an extraordinary life with his roots stemming from a refugee camp in the Lebanese capital Beirut to now him enjoying success, fame, and honor not just as a renowned author but also as an influencer. From being honored with Esquire Middle East Man of the Year 2015 to bagging the Arabian Business Achievement Award 2019, Chaker Khazaal is not just an award-winning star but to many young readers in the Arab world he is an author, a household name with hit novel trilogy such as "The Confessions of a War Child" and "Tale of Tala".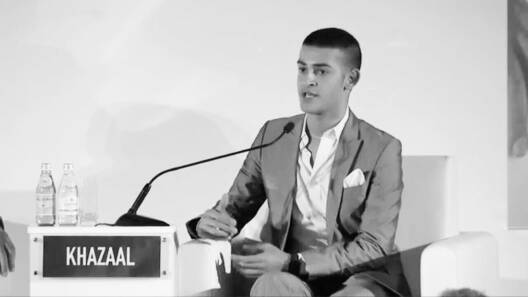 To many, his success story from a refugee camp to a best-selling author remains a story of awe and inspiration. He grew up in Lebanon but later through a scholarship he secured at Canada's York University he was able to fly to and settle in Canada. Now he is a Canadian national. He has earned the respect of every big Middle Eastern star be it the singing sensation Elissa launching his memoir "Ouch" in a gym in Beirut in 2020 or renowned Lebanese TV Host and actress Sacha Dahdouh interviewing him about his initiative "Candle of Hope" in 2020 when the COVID19 death count was shattering hope and creating a wave of fear and anxiety across the globe.
New Initiatie "Let's Talk"
In April this year, he and OBCIDO Inc. came up with a new initiative that remains a first of its kind in the Arab world started by a celeb to open discussion on mental health. The initiative titled "Let's Talk" opens a golden opportunity for everyone who has ever suffered through the horrible phases of insomnia, mental stress, and depression.
It makes them feel comfortable in their skin, they find solace in the voice of a celeb who is openly telling everyone about his mental health and want everyone to talk and speak up to find the healing in their life.
I was awake at night due to a bout of insomnia bothering me with my head full of thoughts about the next working day, it was 1:21 am and while flipping through different insta stories I also came across the story of Khazaal, the story was about his campaign on insomnia. At suddenly without any qualms reacted with a crying emoji.
Within few seconds, my crying emoji was responded with a question from a big name in Arab Literature of modern times. The question was "You do anything about it?".
First, I was surprised as I was not expecting a star of his stature to respond swiftly to my crying emoji when his DM already must have been inundated with thousands of messages considering he has around 118 thousand Instagram followers.
. I was disturbed already by my sleep-deprived state and continued perplexities of battle with insomnia, I was also clueless so instead of first expressing my gratitude to him for responding I went on to answer his question.
. I told him how I started writing poetry initially to deal with insomnia and now after being done with several English and French poems, now I am writing a novel of my own.
We did set time for our Zoom Meeting and despite his busy schedule, he managed to indulge with me in a very freewheeling conversation which lasted for over half an hour. I found a friend in him, someone I can speak to and open up to when I feel the stress is around. Not even for a single minute, I felt like I was interacting with a star but I felt as if I was conversing with a friend from childhood.
Therefore, we concluded that talking is healing and that is how I found my solace in the voice of a star from a foreign terrain. Borders, distances, and differences of ethnicity and age vanished when I spoke up on mental health with Chaker.
As a writer myself, I found many of his thoughts and sentiments very relatable. To know what I and Chaker talked about
What do you think of the story? Tell us in the comments section below.