It's official… just look at them!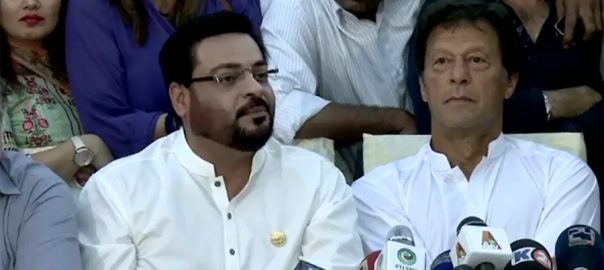 Amir Liaquat Hussain joins Pakistan Tehreek-e-Insaaf as a party member. In other words, PTI just lost a major vote bank after allowing the controversial media personality into their unit. There were many rumors following it a few months ago. However, PTI officially denied their association with Amir Liaquat.
Now, the scenes became real and for many PTI followers, it's a highly disappointing turn. Especially when the country is verging towards the general elections of 2018. Many followers have turned their backs on such a move, there are party members who openly object Amir Liaquat's inclusion in the party and then there are those who have chosen to stay silent about it.
At this moment, Twitter is the ideal place to catch every reaction by Pakistanis. The social media fraternity continues to talk about the matter and it has been a much sought-after trend since last night.
The following thread is Pakistanis typically going insane; so, sit back, relax and enjoy!
https://twitter.com/AsNr80/status/975748620946477056
That's one good point there!
You all know in your heart that Amir Liaquat is a fraud, hypocrite & a bigot, don't be an idiot who defends such pathetic party decision.

Ps: Amir Liaquat doesn't have any vote bank, he's actually hated in Karachi, lose-lose for PTI.

— Osama. (@ashaqeens) March 19, 2018
Here's a diehard supporter blurting it all out
https://www.facebook.com/dodge.kakar/posts/2161601193867129
Oh, imagine the meltdown…
We want Amir Liaquat vs Khadim Hussain Rizvi debate before the elections.

— Puffin Man (@junaidakram83) March 19, 2018
THIS IS GOLDDDDDDDD!
This is what Amir Liaquat said about Imran Khan just 13 days ago. pic.twitter.com/X4u6pzifnu

— Murtaza Solangi (@murtazasolangi) March 19, 2018
He's already foreshadowing at what may be the apparent outcome in the coming time…
Already dreading the things Amir Liaquat Hussian will say when he falls out with #PTI

— Salman Masood (@salmanmasood) March 19, 2018
There goes Salman Ahmad, former band member of Junoon and a life-long supporter of Imran Khan
After 35 years of defending, supporting & justifying @ImranKhanPTI to the world , i no longer can. i fear that reptiles surround him.

— salman ahmad (@sufisal) March 19, 2018
They are losing supporters like crazy!
I supported PTI since the very first day, watching @ImranKhanPTI accept Amir Liaquat hussain in the party broke my heart today. He is a bigot, extortionist, killer and defended Altaf Hussain through out his life. I have decided not to vote this party again in 2018.

— Zameer Maan (@ZameerMaan) March 19, 2018
I AM SO HURT.

I still can't believe that @ImranKhanPTI can allow Amir Liaquat to become a part of PTI. It's shameful. It's indefensible. It's heartbreaking.

— Sheema Mehkar (@SheemaMehkar) March 18, 2018
That's a good realization there…
What kind of vote bank or followership does Amir Liaquat have? I mean who seriously supports that clown?

— Soraya Aziz (@SorayaAziz) March 17, 2018
It will be interesting how PTI steer their political mandate from this standpoint, especially now when the elections are close and they must definitely be looking to cash in a large vote back. One thing's for sure, whoever is a fan of Amir, they may be hundreds and thousands, they all would now turn towards him and back him regardless. Perhaps that's what PTI are aiming for?
What do you guys think about Amir Liaquat joining the political party? Share your opinion with us on the latest news.