The star-studded celebrity couple, Amir Khan and Faryal Makhdoom have been in the limelight for a quite long time. Since more than a year, we have seen the controversial family drama between the families of Amir Khan and Faryal Makhdoom. It was started when Faryal shared a nude picture of Amir's brother then Amir's sister shared her fight with Faryal on Snapchat. The parents of Amir Khan spoke against their daughter-in-law on the national television and Amir Khan, himself called Faryal Makhdoom "gold digger" after accusing her of cheating with another boxer, Anthony Joshua.
It doesn't end here. Mr. Khan was also seen with a 27 years old model, Dasha Abdelgany to whom he asked for a visit when his pregnant wife, Faryal Makhdoom was in another city. After creating the whole buzz, the couple then announced on social media that they are going to file for divorce soon and here comes the twist… all of a sudden, the couple decided to reconcile and forgive each other. Fast forward to last month, the couple announced the arrival of a baby daughter and now it seems that everything is finally settled between the couple.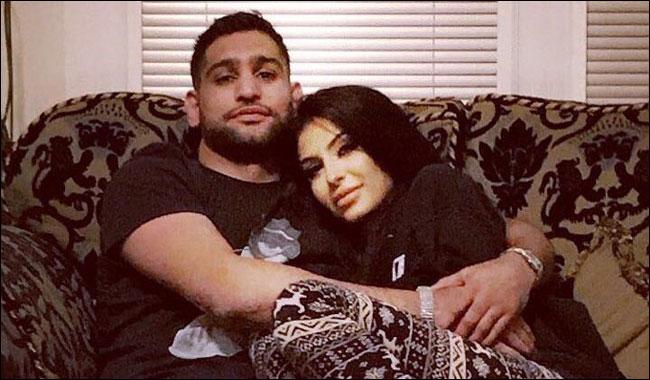 Yesterday, Amir Khan and Faryal Makhdoom shared a picture while coming to Lahore for Inter-Division Punjab Open Boxing Championship 2018. The couple was seen enjoying the flight as the smile on their faces is telling all. But Twitteratis have noticed something else in the picture! What is the glass Amir Khan holding in his hand?
Here's the picture!
This Guy Just Raised A Question!
What r u drinking mate ?

— waqas ikhkaq (@waqasikhlaqoo) May 15, 2018
Apple Juice Or???

Well…

And Some People Noticed Faryal's No-Makeup Look

Plastic Girl? Nae Yaar!!!

I Agree!

So, the couple is still in Pakistan! Let's look forward to more pictures of the two enjoying their trip in Pakistan without any controversies!