Congratulations are in order for actor Ameer Gilani, who has received his law degree from the prestigious Harvard Law School. His friend and fellow actor Mawra Hocane also took the opportunity to share how proud she was of him.
Taking to Instagram, Gilani penned a post dedicated to his life-altering achievement. "Smiles all around! Alhamdulillah. Nothing beats the feeling of being surrounded by happy and positive people," he wrote.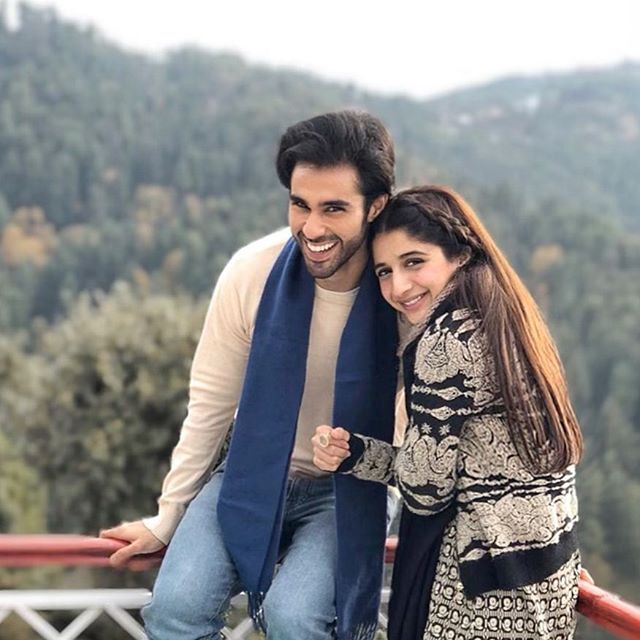 He then dedicated his feat to "mama, baba, Ranya and all my lovely friends, those I could celebrate with and those who have prayed from a distance. Love and prayers for all of you."
Gilani concluded with a nod to everything that helped him get where he is today. "Thori Qabiliyat (a little potential), Boht achay ustaad (amazing teachers), Boht Zyaada mehnat (a lot of hard work), Uss se zyaada sab ki duaein or sab se zyaada Allah Ka Karam (and more than all that everyone's prayers and God's blessings), Alhamdulillah."
The Sabaat actor shared pictures from his graduation to Instagram, inviting congratulatory messages from the drama fraternity. 
Mawra Hocane is over the moon
Hocane took to the comments section of his post in sheer joy. "Ameer! Congratulations MashaAllah," she wrote. "You make our hearts swell with immense pride and joy, always! [A] brilliant brilliant achievement!" 
"Thank you very much Mawra," responded the Log Kia Kahengay actor. "Couldn't have been possible without your prayers! I know how much you prayed and helped from a distance!"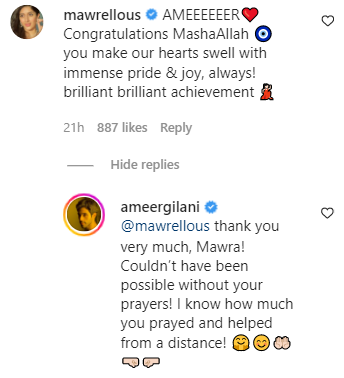 "You're most welcome. Now come back and let's roll, InshaAllah! Also, treat?" asked Hocane. Gilani maintained that he was excited to return and get back to rolling, "Oh yes! Excited for that InshaAllah. Of course, as soon as I'm back."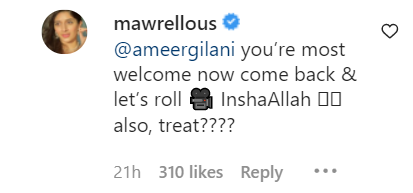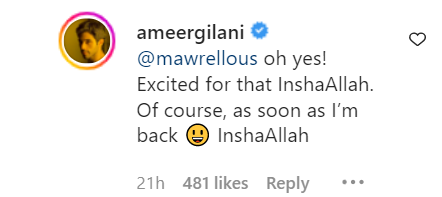 Gilani and Hocane were seen romancing each other in a recent drama serial. The on-screen chemistry between the two was undeniable. Fans began speculating about their relationship off-screen as well. The duo, however, shushed them down. They claimed to be each other's good support only.
It may be recalled that earlier Hocane was spotted chilling with Gilani and his family. It left fans wondering whether something is going on between the two or not. Many were of the opinion that the two are secretly dating. On the other hand, others adore their friendship.
Fans have been wondering about the relationship status of Gilani and Hocane for a long time now. The latter recently addressed the dating rumors and revealed whether the two are planning on getting hitched or not.
What do you think of this story? Let us know in the comments section below.