It is no surprise to those following the couple for a few months now. Since Ehd-e-Wafa to Mera Dil Mera Dushman on the screens, and their hand-in-hand pictures circulating around social media, we all know the couple. Every few weeks, the couple couldn't resist but post a picture of each other with a lovey-dovey caption that complimented either a meaningful attribute of the other or their "pretty eyes".
So what's churning in the rumor mill?
People are talking about them from the past few days as they celebrated a birthday during the quarantine. With a picture of themselves in color-coordinated attires and a cake in the front, Alizay captioned the image as:
"I can't believe how lucky I am to have found a best friend like you !!! you make every day of my life special. Happy birthday to the sweetest person I've ever known (teary-eyed emoji)….
May you be gifted with life's biggest joys & never-ending bliss! (heart)(rabbit) @noamansami"
To which Noaman replied, "I am the one who is lucky tho! Thank you so much for everything and the amazing surprise last night," followed by a set of emojis reflective of their sentiment for each other.
The couple, though, looks cute together, but it doesn't give as 'cute' impact on the viewers observing self-isolation. Their cordial affair is also a bit controversial given they never vocally declare their relationship but subtly make it evident by their choice of words for each other, selected emojis.
And oh, did I mention their pictures in mutual love and support on their feed every now and then?
Their Leaked Images and Videos
Not many months ago, the couple got controversial. After their kissing pictures were leaked on social media when Ehd-e-Wafa was about to end, people could not stop talking about it. Even now, if you insert their name on Google, you will read things you wouldn't want children in your family to ever access.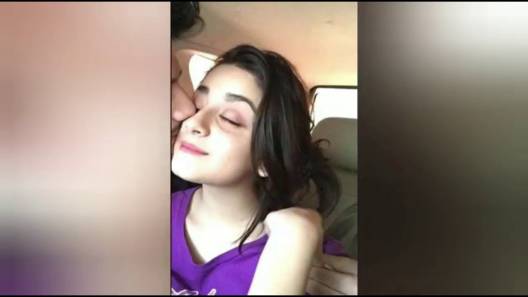 Forget the former controversies. What is making people uncomfortable is their disregarding the ethics of quarantine. I mean, appreciating the other, their personality or their mutual time at the set is cute, or maybe their "rabbit with a chick" emoji as a depiction of themselves isn't that weird at all. But celebrating birthday against the strictness of lockdown is bit uncool, no?
Celebrating while the rest of us are sitting quarantined does not seem fair but their pictures appearing on the feed every now doesn't hurt anyone. The couple surely has an attractive personality of their own. Alizeh's looks and talent of acting have brought unconventional proposals in the past, and we can tell why that is.
And above all, their affectionate positivity for each other has become something that their followers quite seem to relish and swoon over. What is your take on the couple?
Let us know what you think of the story in the comments below.