Bollywood is famous for creatively stealing plots, tune, songs and even whole stories from film industries worldwide. Many classic Bollywood movies are nothing but a copy of Hollywood classics. Same goes for the Indian music industry, a number of hit Indian songs are "inspired" by Pakistani music.
Plagiarism has a long history in the Indian entertainment industry, they have copied from everyone and anyone without fear of being caught.  The long list of blatant thefts includes, "Hawa Hawa" by Hasan Jahangir,  and even the second national anthem of Pakistan "Dil Dil Pakistan" and Nusrat Fateh Ali Khan's songs, Kitna Sohna Tenu Rab Ne Banaya, and "Ye Jo Halka Halka Suroor Hy."
They even copied the viral honeymoon without a spouse story!
Alia's debut song is a rip off!
We weren't really surprised when the young and famous Indian film actress turned singer Alia Bhatt choose to debut with a plagiarised tune. Her newly released song Prada is a total ripoff, and she really thought nobody would notice.
The catchy song reminded people of an old memory. A beautiful song that was a major hit of its time and remains a timeless classic, Gorey Rang Ka Zamana."
Alia Bhatt's 'Prada' is a blatant copy of a famous 90's song by the legend, Junaid Jamshed.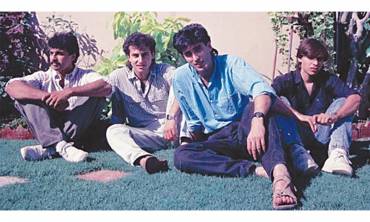 Let's listen to the two songs and see if you can notice what we did!
Alia's Song Prada, featuring the Band Doorbeen:
First, let's hear Alia's song and laugh at the lack of creativity disguised within expensive sets and high production quality.
We hope you picked the tune right away too and we understand it was a total pain to listen to the complete song.
Here's the classic by Vital Signs!
Give yourself a treat and enjoy the timeless classic by Vital signs, "Gorey Rang Ka Zamana."
The sad part is this is not the first time, and won't be the last too. But, there are really those aspects of life where they should copy us!
With all the hype, glitz and glam the Indian media industry lacks originality. What do you say, guys? Can you spot the similarities? Did you like the Alia Bhatt's adaptation of the famous song?  Are you a diehard Junaid Jamshed fan too?