Disclaimer*: The articles shared under 'Your Voice' section are sent to us by contributors and we neither confirm nor deny the authenticity of any facts stated below. Parhlo will not be liable for any false, inaccurate, inappropriate or incomplete information presented on the website. Read our disclaimer.
If one thinks that he is unstoppable, he will be unstoppable in every aspect of life. A Lahore-based young boy who belonged from a middle-class family, with a guitar in hand, dreams in mind, followed the track of hardworking. A boy who had a dream to become a hero made his first appearance in Abrar ul Haq's song 'Preeto'.
But who knew this young boy will be a rock star in his future. After some time, that young boy launched his own album by collecting money through live sketching. I was in school when Chan'no was a super hit. Then I came to know about Ali Zafar who made a revolution in the musical world. Channo, Huqqa Pani, Sajaniya, Masti, Jhoom was the masterpieces by this superb man. A Lahore based sketcher who just turned his dreams into reality!
From that era to Coke Studio Season 10's Julie, we never got tired of listening to him.
Look at his step towards filmy duniya… Ali looked into Bollywood and even made a debut with Katrina. Then London Paris New York, a tapori in Kill dill, then a guitarist lover as Rumi. Ali never stops surprising us.
Not only this. Ali Zafar was also counted as top 50 sexiest men in Asia. I mean he's got that soorat bhi and seerat bhi. (Control girls!)
Now, why I am here? Ali Zafar is back with a boom. From a sketcher to a singer, the actor and a good human being and now you'll love this Mirza Ghalib's touching poetry. Mulahiza farmaye. This thing is really revolutionary. Ali's sketches are literally mind-boggling too. He did live sketching in front of us in an Indian reality show.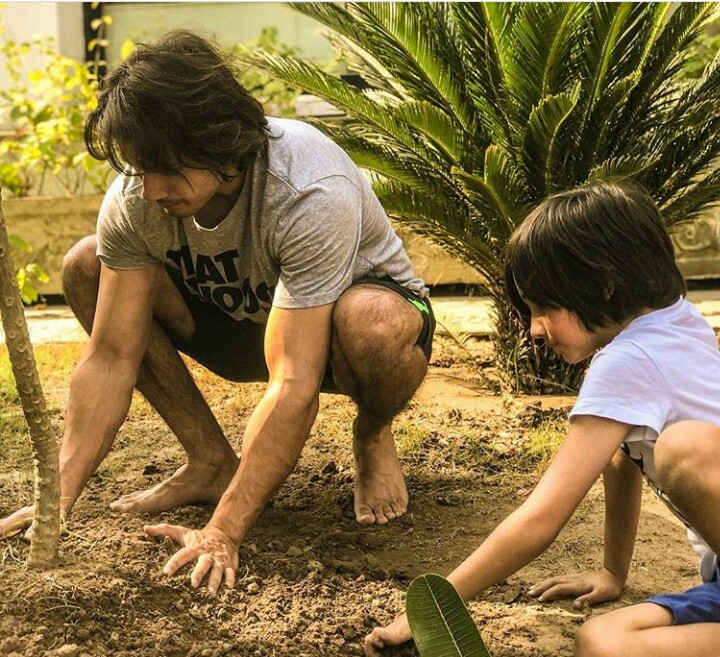 Ali is not only for her fans only. He is providing his time to his family. He's a beloved son, brother, husband and a father.
Can't wait for 'Teefa in Trouble'.
Ali Zafar is a true inspiration for all of us who proved himself in every aspect of his life. An example of ashes turning into flame and now unstoppable. Who knows that Ali Zafar's next step to shake our mind with amazingness?
We love you, Ali. Thank you for being here. And more power to you!