Coke Studio 8 released the song 'Ae Dil Kissi Ki Yaad Mein' in melodious voices of Ali Zafar and Sara Haider. It's safe to say the season eight has so far fulfilled the expectations of music lovers with fusion of music.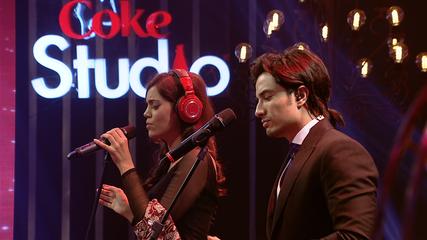 The third duet of the season after Umair Jaswal and Qb, Gul Panrra and Atif Aslam and it's definitely not a disappointment. A recreation of Saleem Raza's 'Ae Dil' Sara Haider And Ali Zafar leaves a person mesmerized by their vocals and the audience sways along the tunes and wonderful melody of the song.
This is Ali Zafar's second performance of this season and yet another captivating one for sure. He's yet again proven himself to be the versatile artist with the most unique vocals with hitting the highest notes to the lowest. So far we had only seen Sara Haider perform on back vocals but she's definitely proven herself next to a singer like Ali Zafar leaving us stunned with her spellbinding performance. We look forward to seeing more of both these charming performers on upcoming episodes!