Aseefa Bhutto-Zardari, the youngest child of former president Asif Ali Zardari and former PM Benazir Bhutto, recently made her political debut in Multan.
The 27-year-old delivered her first major political address at the Pakistan Democratic Movement (PDM) rally on November 30. Her political address is seen as Aseefa's formal entry into politics.
Political differences aside, Aseefa is pretty cool, says Ali Tareen
Soon after addressing the PDM rally in Multan, #AseefaBhutto became the top trend on Pakistani Twitter. Ali Khan Tareen, the son of PTI's member Jehangir Khan Tareen, was quick to provide his views on Aseefa's speech on Twitter.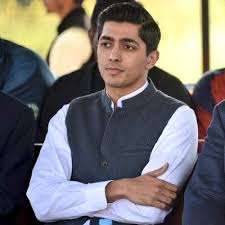 Ali shared a tweet in which he praised Aseefa and called Aseefa "pretty cool". Maybe the son of PTI's bigshot is Aseefa's new fan now.
Twitterati lauds Ali Tareen for being a gentleman and praising Aseefa
Pakistani social media users are happy about how Ali praised Aseefa as she begins her political career. Someone even asked if Ali wishes to join the Pakistan People's Party (PPP).
Here's what the younger Ali had to say in response.
And, there were some naughty people with their naughty comments and suggestions. LOL!
Buhahaha!!
We will continue to struggle for PPP's vision, says Aseefa
Aseefa led the Multan rally in the absence of her brother and PPP Chairperson Bilawal Bhutto-Zardari. Bilawal is currently in self-isolation after he was tested positive for COVID-19.  Monday's gathering also marked PPP's 53rd foundation day.
According to Express Tribune, she delivered a short and brisk speech. Aseefa began her speech by heaping scorn on the "selected" government. She also promised to stand by her brother Bilawal in every adversity.
"Despite the cruelty by the selected [government], so many of you have gathered here. This selected [government] will have to go!", said Aseefa.
The 27-year-old also spoke about her mother. According to Aseefa, her mother wanted to establish a welfare state but she faced several setbacks. Aseefa added her mother and party members will continue sacrificing their lives for the country.
Aseefa promised PPP supporters that she would continue their mission and would not back down.
"They think that we are afraid of arrests. If they arrest our brothers, then they should know that every woman of PPP is ready to take up the struggle," she Aseefa. She is cool, indeed.
What do you think of this story? Let us know in the comments section below!