Things are turning into something sick and Ali Noor looks like doing every possible thing to make everything better. After the whole Ayesha's message leak that made everyone go crazy and another MeToo movement raised against the rockstar. Why did Ali Noor deny all harassment allegations on him after accepting them?
Ali Noor came forward bravely and accepted for what he did. He released a large document statement that highlighted every aspect of it and he deeply apologized to her.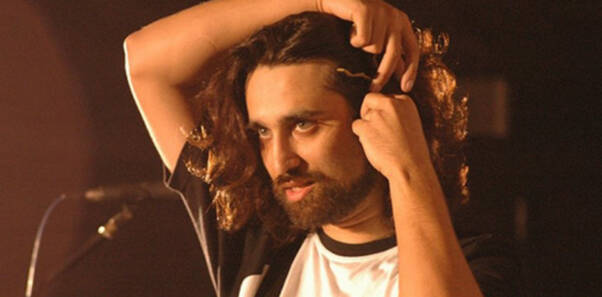 Not only one time, very next day, he again shared an apology note which he uploaded to his Instagram story. But Ayesha Binte Rashid called out Ali Noor for his "senseless apology" on her social media account.
Ali Noor's new apology to Ayesha
For those who aren't aware of the actual drama, journalist Ayesha Binte Rashid accused Ali Noor of sexual harassment and leaked the message that she confronted him. In return, Ali Noor has released numerous apology letters for her.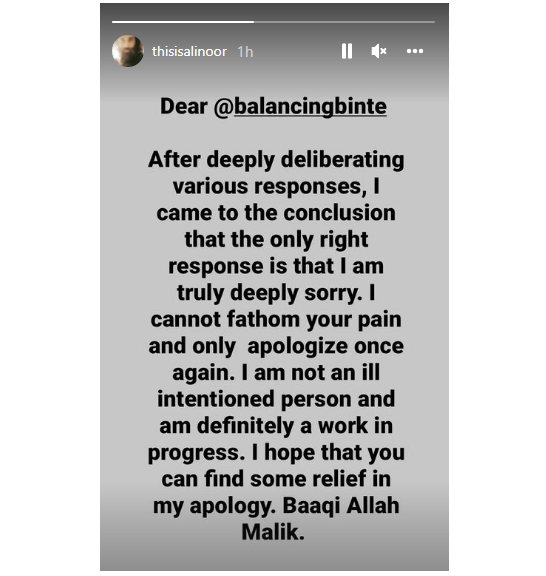 Later, Noor also deleted some of his previous stories, which made everyone go bananas on Twitter. He wrote, "Dear @balancingbinte [Ayesha Binte Rashid], after deeply deliberating various responses, I concluded that the only right response is that I am truly, deeply sorry. I cannot fathom your pain and only apologize once again."
He further added, "not an ill-intentioned person" and is still working on it. I hope that you can find some relief in my apology. Baaki Allah Maalik (the rest I leave to God)."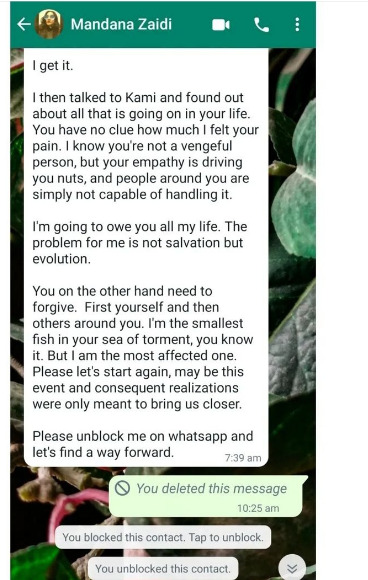 Ali Noor tried everything possible to reach out to Ayesha, as she had blocked his number and then he contacted her with her wife's number. In his messages he expressed, where he thanked her for the "wake-up call", urging her to "forgive herself, first" and then "others around" her.
When a news outlet reached out to Ali Noor for his full statement, he denied it but insisted that the complete chat should be shared publicly.
'I deny all the allegations' – Ali Noor
Now that's the big turn, after so many apology letters and receiving no response from the victim Ali Noor released a statement with the picture of a bed made out as a grave. He wrote, "Ayesha Binte I am done being concerned about you. I set you an apology by putting my entire life at stake and you dare to not accept my heartfelt words.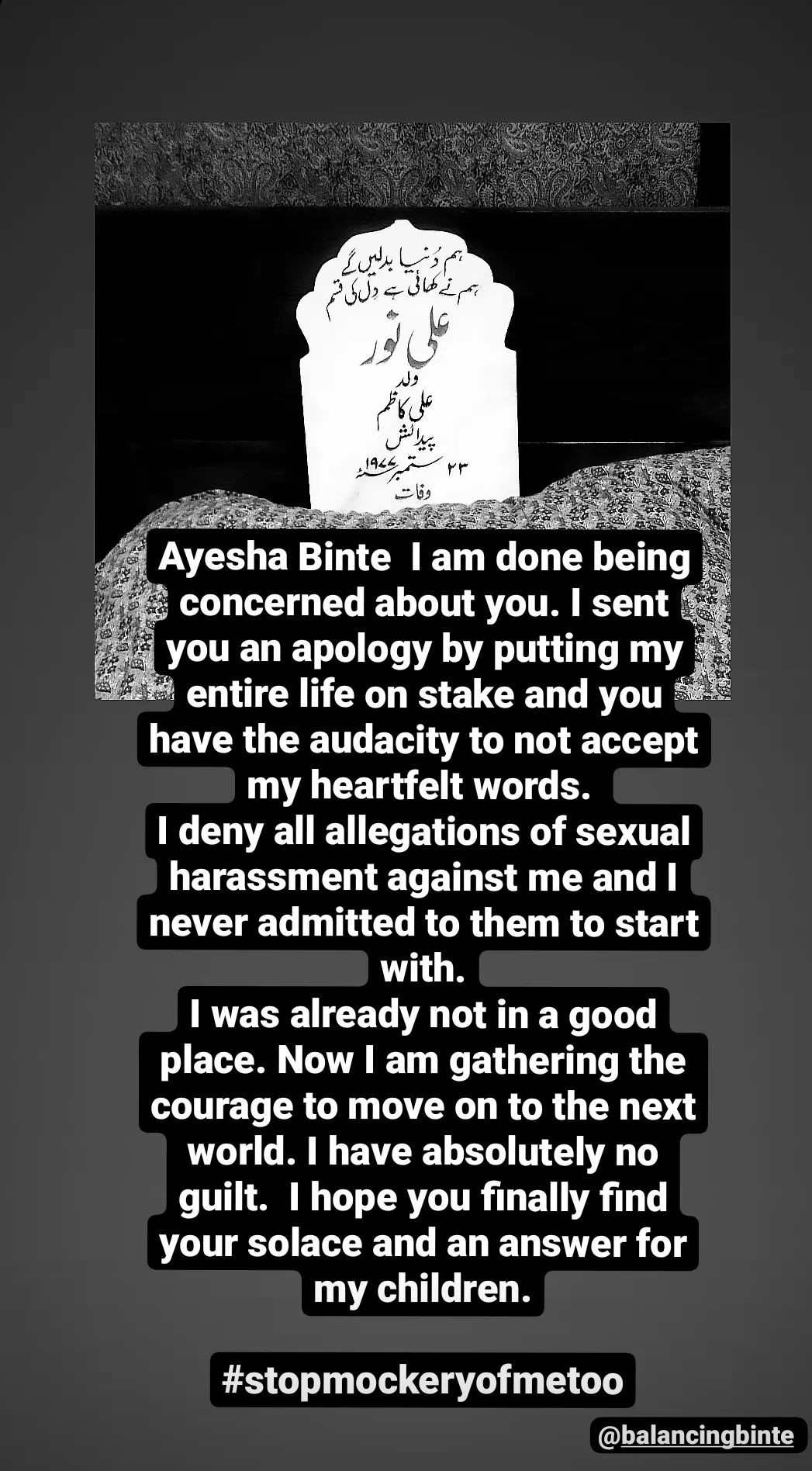 I deny all allegations of sexual harassment against me and I never admitted to them to start with. I was already not in a good place. Now I am gathering the courage to move on to the next world. I have absolutely no guilt. I hope you finally find your solace and an answer for my children." With the hashtag #stopmockeryofmetoo and tagged Ayesha. "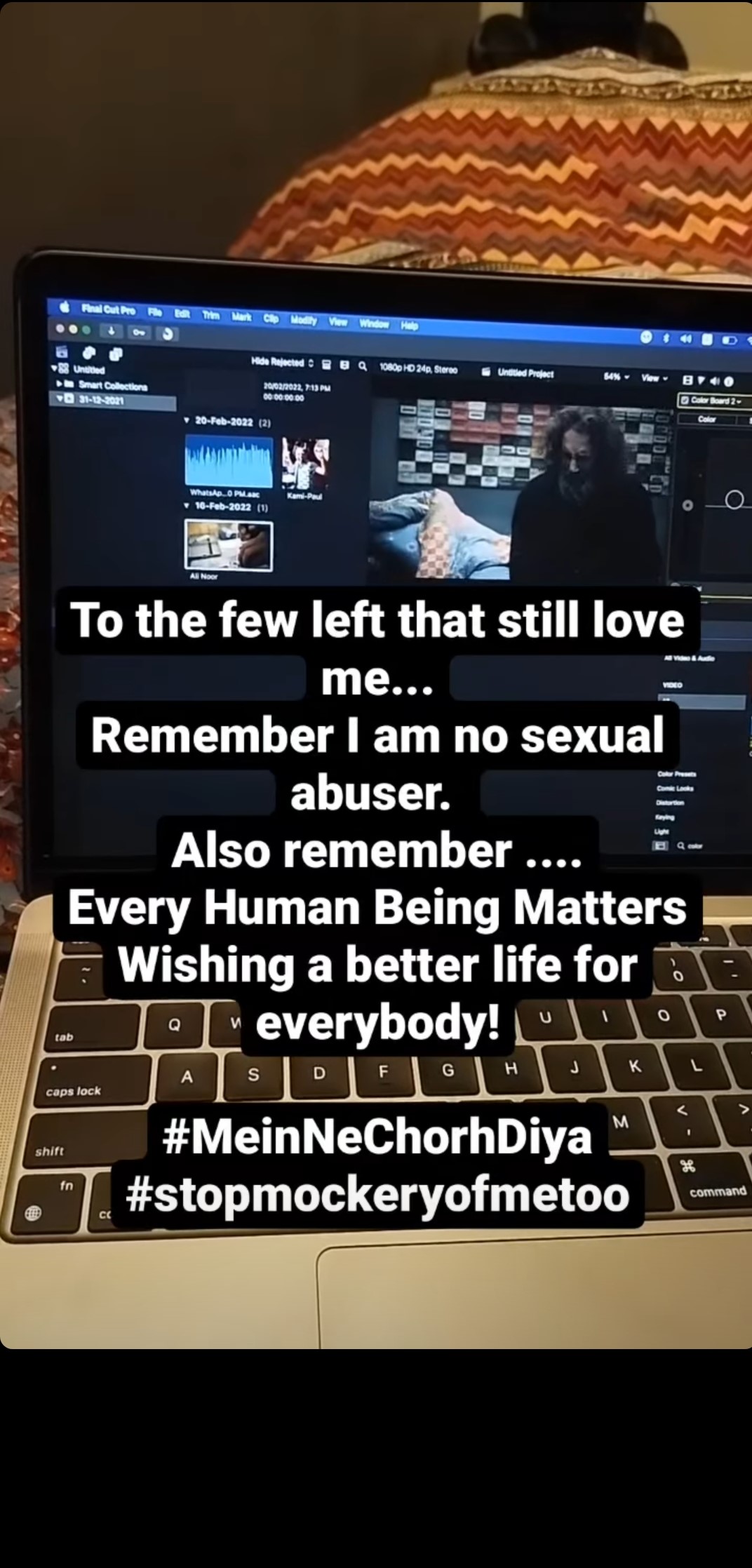 He then further added, "To the few left that still loves me, remember I am no sexual abuser. Also, remember every human being matters wishing a better life for everybody #MeineChordiya".
Since his latest development in his statement, Ayesha Binte didn't disclose any further details or released a statement.
What do you think of the story? Tell us in the comments section below.