Just recently when Khadija's case finalized and Pakistanis were beyond happy with the verdict. Shah Hussain got served with the punishment as Supreme Court Of Pakistan overturned the Lahore High Court's (LHC) acquittal for him.
Khadija who was fighting alone in this battle, she was not backed by anyone media personal or any celebrity in the starting years of her case.
But now, the justice has been served and we along with many other Pakistanis are happy for her!
When everyone was cheering Khadija up, Ali Moeen's Facebook status hurt a lot of people; "I interviewed Shah Hussain a few months ago after he was acquitted from LHC and now the Supreme Court has overturned that decision. But, what parents need to learn from this is that you need to keep a close eye on their children… are they dating people? Have you talked to them about the do's and don't of being with someone. If only parents talked to their kids and counseled them and helped them so many things can be avoided. We all know boys who share and spread indecent pictures of girls. We all know girls who make boys spend lavishly on them. Ideally, youngsters should focus on studying and avoid these things completely. But, we need to realize that youngsters will indulge and so if you can't stop them at least you can tell them how to behave decently and so hopefully things don't escalate!"
He talked about parents should keep an eye on the children and who they are dating but rather "why should the 'kids' dat even, but they should be focusing on their studies.
Ali Moeen is a social media critic, he has an opinion on any and everything. Like Hamza Ali Abbasi?! Yeah, just like that!
It's not that they offend people every time but they there a few things that people like and a few are not so likable! Just like the case that even if you are a ripest and juiciest peach in the world, they is still going to be someone who hates peaches. Eh?
After all such fiasco, Ali receives a lot of hate and we all are aware of it, aren't we? So, Ali decided to take some action about it. When receiving hate from so many people, no matter how hard nut you are, some of the things would definitely affect you.
Here's what Ali Moeen has decided!
"I need a break from social media. I need it for my mental health. Not sure if its days, weeks or months.
But, I am tired of media cells and fascist supporters of political parties insulting and abusing. The place for dialogue in this country is over. That is the reality.
Even if I talk about good things or try and do a public service message or educational content, people are going to body-shame, allege moral or financial corruption or just abuse without even trying to engage in dialogue. I have self-respect and I am not going to tolerate this.
My team will keep posting news items etc because I know a lot of you follow this page for that reason. And they will share my articles.
But, I believe it has become difficult to live in Pakistan and talk to people. Difficult not because of politics but what our people have become.
Take care! See you soon!"
He is an academic genius who got popularity in 2009 after he earned 22 A's and 1B and 1C. Ali is not sure that for how long he'll be gone but he is sure that his mind needs peace!
Ali is body shamed, and is called a corrupt human!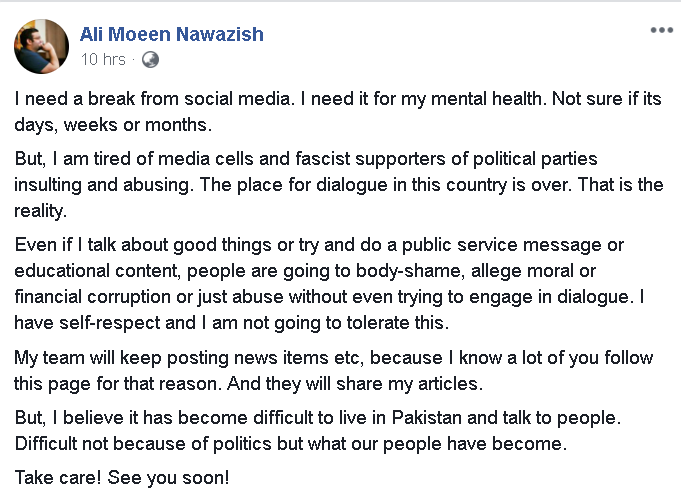 Every single day people throw hate, and how can they expect that it won't affect someone?!
Ali would be the first celeb to recognize this problem that has to cause him hindrance in his mental peace and took a break from it!
Umm… but sanity has nothing to do with education. Eh?!
Woah! How can people be so cruel and find it completely okay?!
Okay, now this guy has something good to say!
Inki b sunein zara, he has something precious to say!
Ali Moeen has a massive following and half of his followers are his fans and friends and the other half is legit haters. Let him have his peace of mind while he's on a break. What do you guys think about it? Let us know in the comments below! 😉