Our society has no room for the dusky-skinned people. It seems as though they are the untouchables in a society that ails from this hideous complexion complex. Lately, a TikToker Ali Khan has come under fire for allegedly making fun of a dark-toned girl fan.
As fast as it has become to gain viral fame these days, the faster the person forgets his place. The cakewalk to achieving instant prominence on the Internet does not discriminate against anyone on any grounds. Ali Khan, a TikToker from Hyderabad became super viral and within no time gained more than a million followers.
The guy now has over 6 million followers on TikTok. Moreover, his highly anticipated Dubai trip were loved by his fans who can not get enough of his famous walk. Let's not forget that whatever he is today, is all because of his fans. Without the love and support of his fans, he stands nowhere.
However, the quick fame seems to have gotten to the head of this TikTok star who could be seen making fun of a fan in a video. Recently, Ali went live on Instagram to chitchat with his 'fans'. Remember- the fans who got him where he is today. In the video, he invited one of his fans, and ater made fun of her dark complexion.
Not only did he say that the kid with him is getting scared of her complexion but also asked the poor girl to go clean her face. As if saying "Ye bol raha hai kaali larki (calling you a black girl)" was not enough, the insensitive TikToker further added, "darr raha hai thora, aap camera saaf karo (we are kind of scared, please clean your camera)."
Imagine how heartbroken that poor girl must have been
The unapologetic and shameless TikTok star could be seen laughing off on how the kid with him reacted to the girl's appearance. In fact, if you closely watch the video, the poor soul can be constantly heard saying 'bhai', but was paid no heed to.
More so, upon hearing such demeaning remarks, the girl even moved the camera away from her face. One cannot even fathom the amount of embarrassment and how heartbroken the girl must have felt.
Watch the video below:
Social media users are furious over Ali's insensitive and appalling remarks
It goes without saying that people like him really do not deserve fame. Clearly, this is what sudden fame results in. Not only does it get to their head but also makes them treat their fans like crap.
After getting so much backlash, the TikTok star took it to his Instagram to share 'his side of the story'.
Ali's response to the criticism
As it appears, there is more it than what we saw in the video. TikToker Ali Khan also shared a video of the fan girl that he allegedly made fun of. Apparently, in the video, she claims that the fans had misunderstood the whole thing. In fact, she further added that Ali respects women.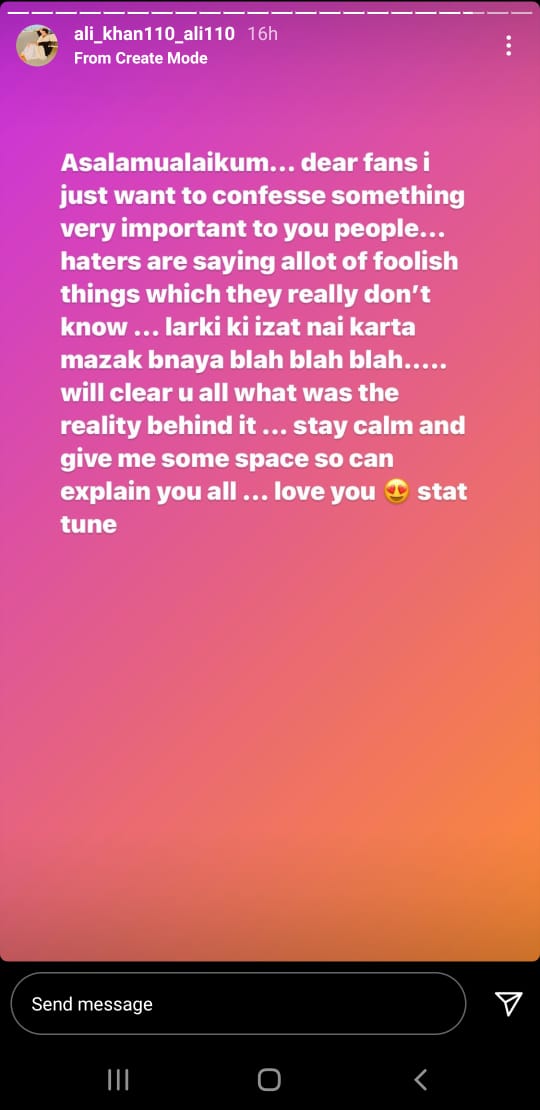 Here's the video:
Unbelievable. We fail to comprehend how such an immoral act could even be defended, and why the girl also seems to be defending him.
Sadly, the higher value placed on lighter skin prevails in Pakistan. All skin colors are beautiful. You should love the skin you are in regardless of what people say. Just recently, Shah Rukh Khan's daughter Suhana Khan shared a strong similar message to end colorism. Do give it a read!
What do you think of this story? Let us know in the comments section below.