Iqrar-Ul-Hassan posted this horrible video recently on his Twitter account. In the video, an Italian Pakistani girl is inhumanly treated by her husband whose name is identified as "Ali Jabir Moti". Son of the infamous gangster and the right hand of Dawood Ibraheem Jabir Motiwala. Iqrar posted the video with a message that this girls husband is so powerful that he can't really do anything about him.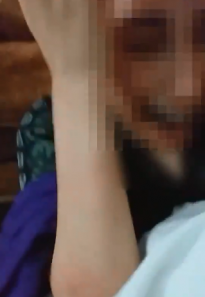 The Video Unveils The Cruelty Of This Sick Criminal That Left The Entire Nation In Shock! 
معافی چاہتا ہوں کہ یہ ویڈیو اس حالت میں آپ تک پہنچائے بغیر اس پاکستانی نژاد اطالوی لڑکی کے شوہر کی بربریت کا اندازہ نہیں ہو سکتا تھا، اس بدبخت کی اس سے بھیانک ویڈیوز موجود ہیں۔ لڑکی کے مطابق اس کے بااثر شوہر کا نام علی جابر موتی ہے تاہم میں لڑکی کی شناخت دانستاََ چھپا رہا ہوں۔ pic.twitter.com/jtzvB6Bjli

— Iqrar ul Hassan Syed (@iqrarulhassan) August 12, 2019
In the terribly sick video, the husband is seen torturing his wife blaming her of promiscuity. He was seen justifying his brutality by mentioning that she has a bad character. Not only that, he made his wife drink his urine and even poured it all on her. Such disgusting and vile behavior can never be justified and this man should be made to go through the same humiliation he put his wife through.
NOTHING justifies domestic abuse and violence. Islam even addressed such men and one can find several verses of the Quran even. But sadly, if the abusers truly knew Islam and the teachings of the Prophet Muhammad SAW, they wouldn't as much as raise their fingers at their wives.
Somebody tagged the Italian ambassador in the thread. 
Iqrar posted there were many more videos and this was rather less inhuman compared to others. Iqrar-Ul-Hasan asked people to google who Ali Jabir Moti was before suggesting a raid at his house. Somebody tagged the Italian ambassador Stefano Pontecorvo in the thread. This horrible news jolted the consulate into action.
The Italian embassy got involved in the case too. As the girl in the video is a Pakistani Italian. Even though Ali Jabir Moti is influential and has many contacts still the FIR was lodged against him, for his sick abusive behavior.
حیرت کے کچھ لوگ اس حیوانیت پر بھی اگر مگر کر رہے ہیں، بہر حال علی جابر موتی کے خلاف کراچی کے تھانے درخشاں میں مقدمہ درج کر لیا گیا ہے۔ اور جن لوگوں کے خیال میں یہ ویڈیو اَپ لوڈ نہیں کی جانی چاہئے تھی، کاش وہ جان سکتے ملزم کون ہے اور کتنا بااثر ہے https://t.co/30rxuvQ6xH pic.twitter.com/EZJRbsgV1T

— Iqrar ul Hassan Syed (@iqrarulhassan) August 13, 2019
SSP Sohai Aziz Took Charge:
The Kehkashan police under the supervision of the talented SSP Sohai retrieved the poor girl from her husband's house in defense, Karachi. The wicked MIL was taken in custody too, but Ali Jabir Moti is on run from the police. While his wife is now safe with her parents. While the police are after the bad guy
Update from @ItalyinKarachi. FIR lodged, husband on the run and will be soon arrested, mother in law jailed on other charges as well. The abused lady is safe with her mother. @ItalyinKarachi in contact with her. @SpSuhai on the case. Hats off to Karachi police!!!🏆🔝 @ItalyMFA https://t.co/VgKtdxDdGO

— Stefano Pontecorvo (@pontecorvoste) August 13, 2019
Stefano Pontecorvo the Italian Consulate-General, thanked the Karachi Police and SSP Sohai for their swift and brave action. Chinese Consulate fame SSP Sohai Aziz promised that they will catch the abusive husband. And will make sure justice is served to him.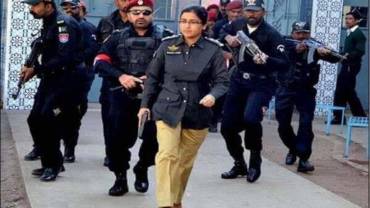 Also Read: Meet CPO Faisal Rana – The Brave Policeman Who Arrested Zafar Supari And Became Pakistan's Pride!
We will get the abusive husband.
This is my correct account, SP Clifton. https://t.co/jWzQK0Zhx6

— Suhai Aziz (@SuhaiAziz) August 13, 2019
When Stefano Pontecorvo was asked to follow the case, to make sure the culprit gets behind the bars, he showed his complete trust and faith in the lady police inspector and her efforts in investigating this case.
@SuhaiAziz is an absolute guarantee….. https://t.co/vjRFW68i4U

— Stefano Pontecorvo (@pontecorvoste) August 13, 2019
Another Video Of A Very Distraught And Scared Alishba Surfaces Where She Is Seen Narrating The Unfortunate Incidents Of Severe Domestic Violence! 
The whole incident goes to show the power of social media. And how we can use it to not only raise awareness but to involve related officials too. It also shows no matter how powerful you become, you will never be above the law or the Almighty. We hope Ali Jabir Moti gets caught and is punished severely!
What are your thoughts on this? please comment and share with us.