When it comes to making headlines, Amir Liaquat Hussain does it every time, but for all the wrong reasons. The anchor-turned-politician has always had a controversial career – be it regarding his education, his career or the statements he makes. His shows with BOL channel may give them all the ratings, but his credibility gets damaged beyond repair.
It is safe to say though – none of this affects Amir Liaquat and he continues doing what pleases him the post.
This time, he did something beyond absurdity!
Amir Liaquat announced that he is back with BOL a few days ago, and yesterday he hosted his Shab-e-Barat transmission at night.
Going live now… #ShabeBaratMeinBOL #ShabeBarat @BOLNETWORK pic.twitter.com/I6bSVZ4p91

— Aamir Liaquat Husain (@AamirLiaquat) May 1, 2018
While talking about Qabar ka Azaab, Amir Liaquat went to the next level to host the special transmission of his show.
The transmission was organized at the graveyard of PECHS.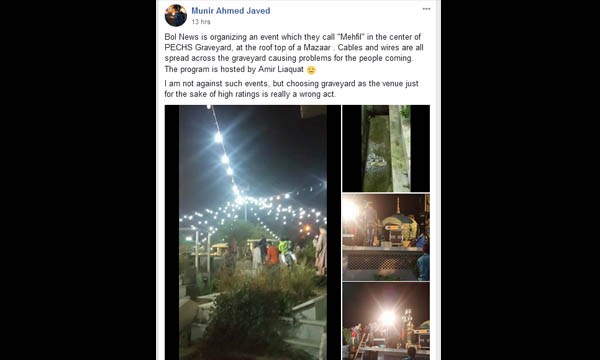 The transmission came live from the Mazaar of Abdul Gabbar Khan who was being honored. However, to see that the graveyard was filled with camera equipment, heavy lights, loads of people and whatnot, using the venue as a source of ratings was just absurd!
Among the outrage caused on social media where the posts of his show were shared, Ali Gul Pir was spotted saying an extremely realistic thing!

Given the record of absurd shows Amir Liaquat has done in the past for the sake of ratings, this indeed seems to be the correct way to put things in perspective. Ali Gul Pir, if you can do us all a favor and make your comment more heard, it may give Amir Liaquat a dose of common sense he misses.
This, however, is just the beginning. Can't wait to see how things go in Ramadan when Amir Liaquat becomes all about money and ratings — like he does every year.