It's all over social media and we don't see it ending any time soon. Yes, I am talking about the Pop vs Rock music tussle that's been going on for DAYS now…
It all started with the mother of all hashtags – #PopVsRock
And when it comes to Pakistanis and music, you need to be veryyyy careful. Yes, we take our music seriously and here's how all the tweeps reacted to it!
Ali Azmat as the king of rock and Strings as the best representative of pop music in the country.#PopVsRock

— Aphrodite (@TheGrumpyDoctor) November 5, 2018
Pioneers of the industry!
Pakistani music has no dearth of talent. Credit can be given to the pioneers of this industry and none more so than Ali Azmat#PopVsRock

— Imran Gill (@ImraanGill) November 5, 2018
And well, you know what? We think this will continue on for quite some time now…
Oh! Also, we came across Xulfi's post on Facebook and once again, he was seen adding fuel to the fire… lol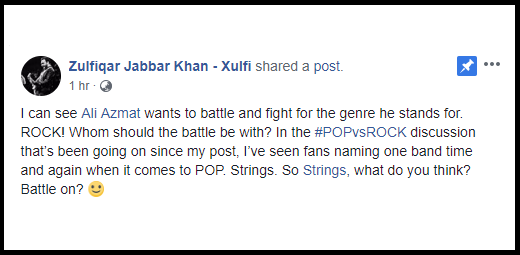 "I can see Ali Azmat wants to battle and fight for the genre he stands for. ROCK! Whom should the battle be with? In the #POPvsROCK discussion that's been going on since my post, I've seen fans naming one band time and again when it comes to POP. Strings. So Strings, what do you think? Battle on?"
Check out Ali Azmat defending rock music like a bawsss!!
And guess who came out to defend Pop music?! The one and only STRINGS!
#PopvsRock #AliAzmat #PopStrikesBack #TribunePoll #30YearsOfStrings

Posted by Strings on Tuesday, November 6, 2018
Oh, dayummm! Did they just challenge Ali Azmat? This is going to be so intense. Note this down. INTENSE. What has happened all of a sudden? We seriously weren't expecting this…
Dear Musicians, tell us already!!! Why has this become a mystery?
Meanwhile, I'm just going to sit and wait and bite my nails…  🙁