Pakistan isn't short on talent and this has been proved by so many youngsters and adults alike, winning several international competitions in the world of academia and sports. The educational system of Pakistan may need thorough improvements, but that still doesn't hinder intelligent students from Pakistan to mark their places on international forums. They are representing the nation and removing the notion of a 'poor country'– literally and in terms of the talent pool.
11-year-old Aima'az Ali Abro from Karachi set a new Guinness World record, last month.
Hailing from Karachi, Aima'az was able to identify the most number of countries from their outline in just one minute. That is an impressive record! The Guinness World record's website mentioned this talented young man's achievement, that read, "The most countries identified from their outline in one minute is 57 and was achieved by Aima'az Ali Abro (Pakistan) in Karachi, Pakistan, on October 8, 2019,"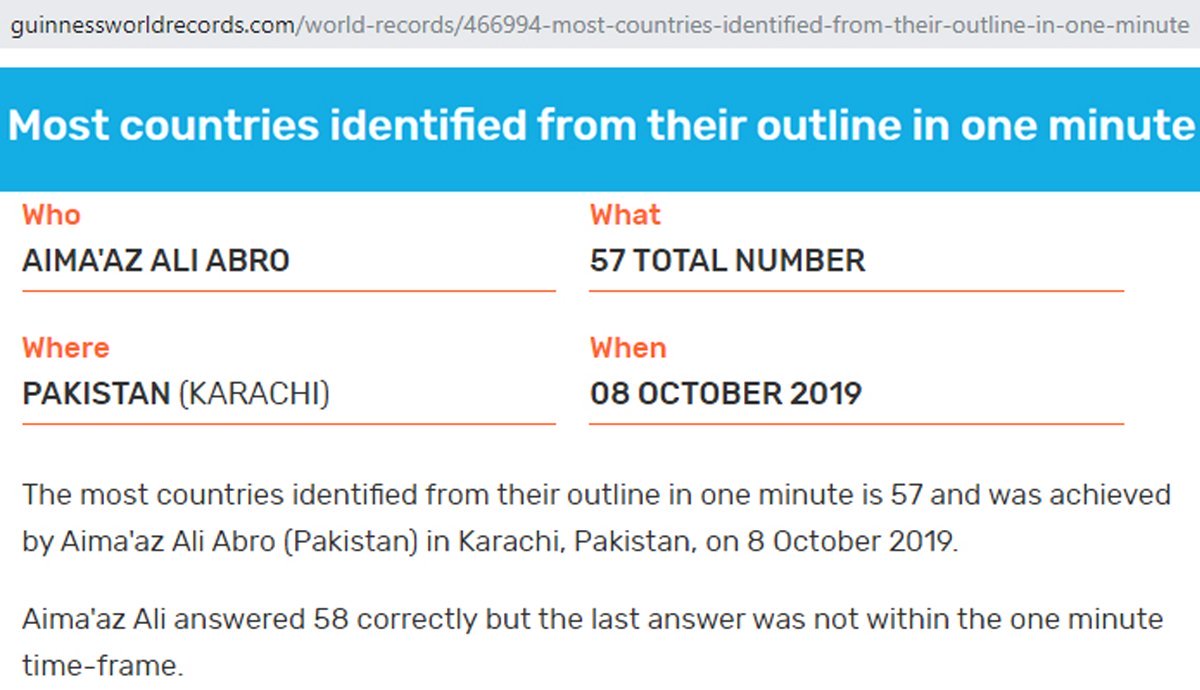 At this point, all there is known about Aima'az is that he is a resident of North Nazimabad Karachi. He has bigger plans ahead after achieving a huge milestone at such a small age. According to the sources, Ali Abro aims to achieve a Nobel prize, next.
Success stories of bright Pakistani youngsters making a difference.
There are numerous of these stories if you find them. Some yet to be discovered while some in-the-making and others already in the limelight for the world to witness the potential of Pakistan. Recently, a student from Karachi University alongside her professor created an edible plastic bag. This bag is toxic-free and safe for human consumption.
Similarly, another student taking human lives endangered in mines into consideration invented an eye smart-helmet for miners of Pakistan. Finding motivation from his brother's near-death experience in a mine, he created a helmet that can detect the conditions of the mine. Moreover, it informs about the health of the miner as well. This level of automation all in one helmet ensures maximum safety.
These are two great stories as we need to not only consider human-lives important but take plastic pollution lessening marine life into great consideration as well. Both of these creations equally important need proper funding for them to help society at large.
But of course, the journey doesn't stop here and there are some amazing individuals out there struggling to make their visions a reality. We wish Aima'az Ali Abro much success and breakthrough opportunities. This young lad has great potential and hopefully, he will make his way through great achievements.
What are your thoughts on this? Comment below!