If you have been paying attention, you would know who Alan Wilkins and Danny Morrison are. That's right, they are the commentators of the Pakistan Super League and the one's who do a seamless entertaining job during every match!
PSL's second installment kick started this February. Teams from the major cities of Pakistan are competing against each other in what happens to be a tournament swamping of entertainment, decorated players and coaches from around the world as well as their performances that account for PSL being one of the best cricket leagues out there!
But today, we are not going to talk about how awesome matches between teams in PSL are. We are rather going to talk about the people who are making this tournament a lively, enchanting, nail-biting and full of emotions.
It is important to know the people behind every successful venture. By every bit, they are toiling to make us enthralled, especially in PSL because we watch this tournament not merely for cricket matches.
There is so much more about PSL and we are going to talk about just that. And when you are talking about PSL, never forget two legends – Danny Morrison and Alan Wilkins.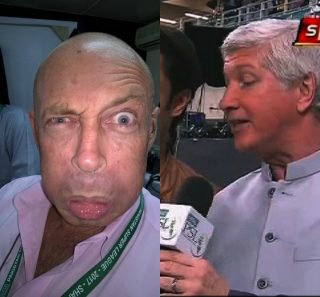 Yes, the commentators. The people doing an incredible job in the commentary box as well as the crazy banter they are caught doing every now and then. They have become the life of PSL and the reason we long for it on match days!
Easy to mention that both Danny and Alan have the best sense of humor. Their antics are the most enjoyable. You cannot go without laughing hysterically to the crazy things they keep doing.
Let us look at some of the craziest things both Danny Morrison and Alan Wilkins have done in PSL!
Here you have Alan Wilkins trying to commentate in Urdu… What a guy, simply!
there is no way you can hate Alan, what a guy apka buhat shukriya @alanwilkins22 pic.twitter.com/PV6raAhIIm

— Ali. (@AleyFarooq) February 17, 2017
AGAIN…
@alanwilkins22 , Thank You so much for Making Our League more special. You are just awesome. Speaking Urdu #QGvKK pic.twitter.com/ZzAS7YIhAj

— Saad. (@SaadSayss) February 11, 2017
HAHAHAHAA OH, DANNY MORRISON, YOU LEGEND!
Hahaha Danny Morison and Alan Wilkins reaction to it #HBLPSL #PSLT20 #QGvKK #KKvQG #PSL2017 #AbKhelJamayGapic.twitter.com/rw0QOfVKDE

— Ahsan. (@iPakistaniLad) February 11, 2017
THANK YOU FOR BEING SO AMAZING, DANNY!
Danny Morrison dancing on the beats of #AbKhelJamayGa during #PZvKK @AliZafarsays pic.twitter.com/QpnVAOy2DV

— ButterFly (@aishakhaan313) February 21, 2017
THERE HE IS AGAIN!
Here's Alan Wilkins singing with Ali Zafar… Sweeet!
@alanwilkins22 Honestly speaking you make PSL 100 times more interesting.

— Aimen (@aimennayyar) February 11, 2017
Admit it
Danny Morrison enjoying in the crowd and Alan Wilkins calling him pagal in 'urdu'
Is the best moment of #PSL 2 so far #HBLPSL

— SARA #PZalmi (@mano8steyn) February 11, 2017
Danny Morrison is an absolute entertainer. Don't know where he gets all this energy from.

— Osama. (@ashaqeens) February 20, 2017
The most loved ganja in pakistan is Danny Morrison.

— Sir Saith Abdullah (@SaithAbdullah99) February 20, 2017
Loving the jugat bazi of Danny Morrison! #QGvKK #HBLPSL #PSL2017 @thePSLt20

— (@ALEENA_Says) February 11, 2017
Today's man of the match Danny Morrison @thePSLt20 #QGvKK

— KhanAdnan (@AdnanDurrani9) February 11, 2017
Indeed, these Desi Gorays are the best out there. They make PSL so much more interesting with their banter and desi touches!