Ever since his capture by Pakistan Army on February 27, 2019, Indian Airforce (IAF) Pilot Wing Commander (WC) Abhinandan Varthaman has become a laughing stock for Pakistanis.
The warplane of WC Abhinandan was shot down in Pakistani territory for illegally entering the country's airspace. Once in custody, Abhinandan was offered tea as officials interrogated him.
In the subsequent video made after his capture, Abhinandan appreciates the tea given to him by Pakistani army officers. Since then the phrase 'tea is fantastic' has been a joke associated with the IAF pilot. He has become meme material for social media users.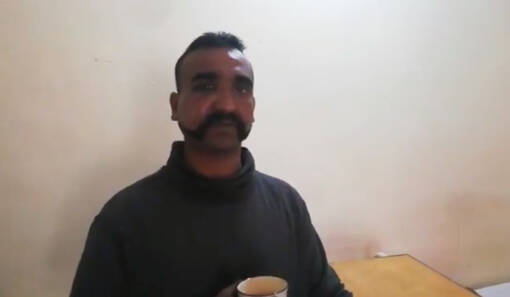 It is not only Pakistanis who troll Abhinandan. Many local and international celebs also troll the IAF pilot. One of those celebrities trolling Abhinandan is Akcent's Adrian Sina.
On Wednesday, Akcent congratulated former spokesperson of the Pakistan Army, Asif Ghafoor, for his promotion to the rank of lieutenant general.
The lead singer of the Romanian pop band congratulated Ghafoor by sharing a picture on Twitter when he met the former DG ISPR on his tour to Pakistan in 2019 and enjoyed tea with him.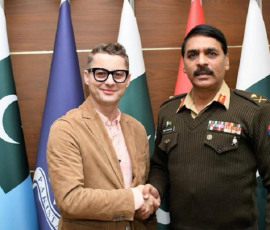 He sarcastically trolled Abhinandan by saying "Another fantastic cup of tea" while praising the Pakistan Army official.
This is certainly not the first time that Akcent has taken a dig at India and praised Pakistan's Armed Forces. In September 2019, Akcent posted a photo of himself with two armed men on Facebook. The photo had a caption that wished Pakistanis a 'Happy Defence Day.'
Netizens cannot stop laughing at Akcent's hilarious trolling
Pakistani social media users were impressed with the wit and sarcasm of Akcent. They also congratulated Ghafoor on his promotion and praised him for serving the country.
Six major generals promoted to lieutenant general
Ghafoor is among the six major generals that got a promotion by the Pakistan Army to the rank of lieutenant general. This was after a confirmation statement issued by the Inter-Services Public Relations (ISPR) Director General Major General Babar Iftikhar.
The other five general include Major General Sardar Hassan Azhar Hayat, Major General Akhtar Nawaz, Major General Salman Fayyaz Ghani, Major General Muhammad Ali and Major General Sarfraz Ali.
What do you think of this story? Let us know in the comments section below!