After suffering the disappointing defeat against Australia in the T-20 and three match ODI series, Pakistan cricket team takes on Aussies in the first of two tests in Dubai from Wednesday. Clearly Pakistan is not the favorite against the mighty Aussies. The reason for this claim is not the dismal performance of Pakistani team who appeared shaky during the ODI series against Australia, but it's unavailability of Saeed Ajmal and Junaid Khan.
Clinging on hope on two main bowlers is not the sign of hopelessness for other bowlers in the team. But, if one takes the pragmatic approach of analytically looking at the performances, we would know that Saeed Ajmal outclasses every other bowler in the team especially on the neutral venues of Abu Dhabi and Dubai. Saeed Ajmal, who had been the key bowler for Pakistan on the pitches of United Arab Emirates, has taken 37 wickets in 6 test matches.
Pakistan was able to win 3 out of those 6 played. The brilliance of Ajmal reflects with his shining performance of 24 wickets in the series against England which was won 3-0 by Pakistan. So, Misbah doesn't deserve a blame for allegedly hitting the morale of boys when he says absence of Ajmal will be the big blow to Pakistan.
Rather, it should be taken in the positive sense as Misbah is making other boys realize the intensity of pressure that has befallen upon each of them with Saeed Ajmal's absence.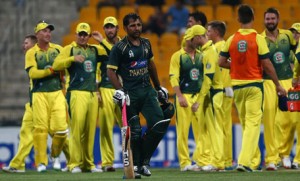 Unfortunately, Pakistan lost its front line pacers Junaid Khan and Wahab Riaz prior to the series and hope they would return for Cricket World Cup 2015. As the result, the players that made the lethal combo of fast and spin attack are out the squad leaving the murky Pakistani team to face the Aussies.
One wonders when the Pakistan Cricket Board will realize the importance of each of their resources. It's only when the player gets injured we hear the word 'fitness' from the PCB officials. We witnessed it in the case of Irfan whose physique didn't allow him to play every match but PCB realized this once he got injured due to persistently playing in even unimportant matches.
Read Also: Pakistan's Winning Moments Against South Africa World Cup 2015
Then, it was Junaid's turn. With PCB engulfed in hiring and firing of team management, we can imagine the quality of fitness-treatment received by the players. Thus it's not hard to imagine the reasons for Junaid's Knee injury.
Due to the injuries of key bowlers, we are left with the potential of Zulfiqar Babar andleg spinner Yasir Shah, both of whom are expected to play against Australia. Lack of experience as they have, it's unfair to attach expectations to them that we would with Ajmal and Junaid.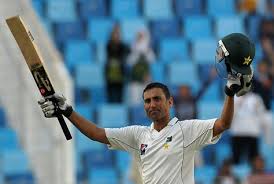 Talking about the batting camp, Misbah-ul-Haq is expected to start from the origin all over again as the propaganda of captaincy that evolved after the loss of ODI series, would not have dropped off his mind. His cool and calm nature may help him recover from it but Misbah's poor performance in the ODI's is also worth pondering over for by him and the team management.
Misbah must be mindful that last time Pakistan won test series against Australia was 20 years ago back in 1994. So, they would have a psychological pressure too. Apart from these negatives, there are certain positives that Misbah could count on. The return of experienced batsmen Younus Khan and in-form Azhar Ali would have boosted Misbah's morale and, he seemed optimist and confident in the interview the other day. Younus Khan's Inclusion in the team is vital for team's performance.
Younus Khan Average in test is 52, which makes him one of the most successful batsmen in the test cricket. His absence from ODI series was the blunder of PCB, but thankfully, he has been allotted the well deserved place in the team for test series. On other hand, talented Azhar Ali has impressed with his technique and temperament in previous series' against Sri Lanka and South Africa.
Australia is expected to come up with the two off spinners Nathan Lyon and Steve O'Keefe though their performance hasn't been convincing look at the track record as Aussies lost 5 out of 6 tests in which they played them. But, confident of their 20-year winning streak against Pakistan, they have given spinners a chance. It will be interesting to see how Younus and Azhar maneuver the Aussie Spin attack because the duo plays spinners very well.
With the return of the skipper Michael Clark in the team after the hamstring injury, Aussies look more stable. But the young Pakistani can capitalize his out-of-form condition provided Misbah infuses attacking mindset in his bowlers. Clarke came clean describing the fierce bowling of Saeed Ajmal and said Pakistan will miss him.
"I think there is no doubt that Ajmal is an amazing bowler. I think obviously Pakistan wish they had him available for selection," said Clarke. "I have always said that Pakistan has always had a lot of talent in any form of the game and I am sure the Test eleven that they put on the field is very talented and know these conditions."
So, it will be a tough challenge for Misbah and boys to take on against Aussies especially when we are deprived of Junaid and Ajmal but the addition of Younus Khan is a positive sign for in-experienced young batsmen and the bowlers.
If Younus and Azhar click with Misbah playing role of the 'wall' and if Zulfiqar Babur gets the turn on the dry pitch, we can pull over the Aussies. We don't want Aussies to occupy the top spot in test rankings by whitewashing us in tests too. For that, Misbah needs to buck up his boys and we can only hope and pray for them.