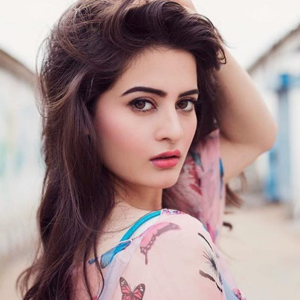 Aiman Khan biography
Aiman Khan is a Pakistani model and artist. She pursues her television career purely by chance at a really young age. Aiman Khan was so young that working in commercials was nothing more than entertaining and games. After being part of many small projects for years, Aiman Khan's career took off when she was old enough to play leading drama roles. Nobody knows that a chubby kid will grow up to be a beautiful young lady like this. She received unprecedented love from people like many other actresses, she is being targeted by people for different things yet her popularity keeps increasing. Aiman is a Young, talented, and attractive actress who joined Showbiz as a Child artist. And today she is one of the lead actresses of the Pakistani Entertainment Industry. She has attained an excessive amount of success in a brief period. 
Fact File 
Birth Date – November 20, 1998,

Birth Place – Karachi, Sindh, Pakistan

Age – 22 years in 2020

Father – Mubeen Khan (currently passed away)

Mother – Uzma Mubeen 

Siblings – Five siblings altogether 

Brothers- Three brothers; Maaz Khan, Huzaifa Khan, and Hammad Khan

Sister- one twin sister Minal khan 

Marital Status – Married 

Husband- Muneeb butt

Daughter – Amal Muneeb 

Nationality –Pakistani

Religion- Islam 

Occupation – Modeling and acting 

Years active – 2012-present
Educational Qualification 
Aiman Khan finished her Matriculation from Karachi and couldn't carry on her educational studies as she joined the television industry. Aiman Khan's busy schedule didn't allow her spare time. She did complete her graduation later on. Aiman started her professional life with the drama serial Mohabbat Bhaar Mein Jayee.
Family particulars
She belongs to a conventional family where her father Mubeen Khan, is a Police officer and a strict guardian, while her mother, Uzma Mubeen, is a housewife. She has a twin sister Minal Khan who also belongs to the industry and is one of Pakistan's prominent actresses. She has 3 brothers Maaz Khan, Hammad Khan, and Huzaifa Khan who are currently studying. She shares a strong bond with her family and is very close to her sister Minal.
Aiman Khan's bond with her father is one-of-a-kind. According to her, she is like a son to her father. While they love each other a lot, they also argue whenever there is a conflict of interest. These arguments never get in the way of the love they feel for each other. Her father confides in her like a friend would and they always make sure that they never stay upset with each other for long. Her father passed away in 2020, which saddens her to the core of her heart.
Marital Status 
Aiman Khan got engaged to Muneeb Butt. Muneeb is likewise a TV Actor. They had their engagement function in January 2017 and it was an outstanding event joined by many celebrities. Then She got married to Muneeb Butt in November 2018 Her husband, Muneeb Butt, is 12 years younger than Aiman. They were blessed by a Daughter – Amal Muneeb, on 30 August 2019
Aiman Khan and Muneeb Butt's love story is the most attention-grabbing love story among celebrity couples. They are also one of the youngest celebrities to get married. Aiman Khan and Muneeb Butt have a significant age gap therefore the first time they met Aiman was so young that Muneeb Butt considered her his younger sister. He couldn't even have imagined that he will one day get married to her. They had a massive group of friends; therefore, they had a lot of fun times together.
Professional Life 
She made her debut on small-screen when she was relatively young in 2012 in a drama serial 'Mohabbat Jaye bhar mein' along with Sajal Ali, Resham, Hina Dilpazeer and Adnan Siddiqui. She got a good response from her debut serial, and soon, she started getting offers for various plays. 
Next Year in 2013, she got a chance to work in 3 superhit plays including 'Mann Kai Moti, 'Meri Beti' and 'Behadd.' This is how her career started and people actually started acknowledging her. Her supporting role in the popular drama serial 'Mann Mayal' opposite Maya Ali, Hamza Ali Abbasi, gave massive rise to her career.
2017 proved to be her year as she started getting lead characters in various serials opposite well-known artists. Her acting in 'Khali Hath' opposite Shehzad Sheikh and Ali Abbas was loved and cherished by many people while 'Ishq Tamasha' and 'Ghar titli ka par' proved to be the best serials of 2018. The same year she came in a drama 'Baydardi' opposite Affan Waheed, Behroz Sabzwari, and Bushra Ansari with a strong social message. Her drama 'Baandi' also gave a strong message to the viewers.
She has worked with many prominent actors and today, she is no less than others. She was seen performing supporting roles opposite other lead actresses, but now she comes in lead roles. She also did a short telefilm 'Khana Khud Garam Karo' with Affan Waheed
Aiman khan Drama/telefilm/series
She has done several dramas, take part in different telefilms, and done plenty of different roles, 
Mohabbat Jaye Bhar Mein (2012)

Mann Kai Moti (2013)

Meri Beti (2013)

Digest Writer (2014)

Bay Qasoor (2015)

Googly Mohalla (2015)

Sehra Mein Safar (2015) 

Khatoon Manzil (2016)

Lucknow Wale Lateefullah (2015)

Khuwab Saraye (2016)

Mann Mayal (2016)

Isi Khamoshi Ka Matlab (2016)

Kitni Girhain Baqi Hain (2016)

Ye Ishq Hai (2016)

Zindaan (2017)

Khali Hath (2017)

Harri Hari Churian (2017)

Ghar titli Ka Par (2017)

Ishq Tamasha (2018)

Be Dardi (2018)

Kaif e Baharan (2018)

Khana Khud Garam Karo (2018)

Baandi 2018 
Current Life
Aiman Khan is an accomplished and alluring face of the Entertainment industry who has one of the leading fan following on social media. Her twin sister Minal Khan and her Husband Muneeb butt are likewise part of Showbiz.
After getting married, Aiman took a break from showbiz, but Minal and Aiman together launch their own clothing brand and the name 'Aiman Minal Closet.'
She devoted her time entirely to raising her daughter. She often talked about how difficult it was to raise a child, but it was completely worth it. Aiman's family helped her a lot in raising Amal.
With 5.9 million followers, Aiman Khan is the most followed Pakistani celebrity on Instagram along with Mahira Khan. The big difference is that She has managed to reach this height at a really young age. She is the most prominent celebrity on social media. Aiman has faith that her social media following has definitely helped her further her career.
Recently Aiman Khan won the award for The Most Followed Celebrity In Pakistan by Hum Social Media Awards 2020.
Aiman Khan has amazed everybody with her ability and aptitudes at an exceptionally young age as a performer and a model.
Many congratulations to Aiman Khan on her significant achievement! And her fan following, anticipating to see her again in drama.