Amidst the rising number of cases of violence and abuse against children, the world is coming together to combat the anathema in all ways they can.
Taking notice of this in Pakistan, the National Commission on the Rights of Child (NCRC), in collaboration with the European Union-funded Huqooq-e-Pakistan Project, has launched a public awareness campaign on Child Rights, featuring NCRC Goodwill Ambassador and celebrated Pakistani actor, Ahsan Khan.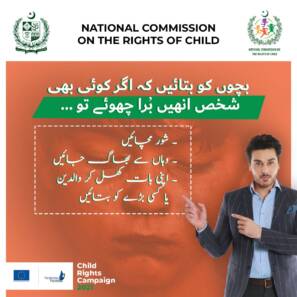 A campaign that will feature Khan – who in the past has been championing the cause in Pakistan ever since his antagonist role as Paa Imtiaz in Udaari – the NCRC has developed three films, which revolve around the rights of children as it features narratives that explore issues like child molestation, good touch & bad touch and the other ills faced by children in Pakistani society.
The actor has also reportedly signed on the project on a pro-bono basis, proving that his commitment to the cause is sans personal gain or attention. Khan has also given more time to this project than other major commercial projects, which have yet again proven that he is committed to bringing awareness to the rights of the child in Pakistan.
Reportedly, all three of these films will be aired on electronic media as well as digital media platforms and would be screened at schools and civil society forums, where citizens will be able to take advantage of the knowledge and awareness they have been given through this content.
Ahsan Khan has been one of the biggest supporters of raising awareness about the rights of children in Pakistan – where about as many as eight children are abused every day in one form or the other – and has given his allegiance to the NCRC's mission as well.
"Child abuse is one of the biggest challenges faced by our society and it is the responsibility of every citizen to participate in this campaign by spreading the message through social media platforms," Ahsan Khan remarked. "I hope this campaign will help in educating the public on child protection."
Pakistan has seen slow but steady growth in the mission to raise awareness against child rights and the entertainment industry has been trying its level best to showcase it in the past. Award-winning dramas like Udaari – where Ahsan Khan played a major role – were able to highlight some issues faced by children when it comes to sexual abuse. Now, with the project by NCRC, the mission is going to help make citizens understand the issue further.
The Chairperson NCRC Afshan Tehseen thus expressed her continued commitment and efforts for promotion, protection, and fulfillment of child rights.
"Child protection is the key priority of NCRC. It is important that we advocate and raise awareness against child abuse and keep educating our public on protective measures," Afshan said. "Through this campaign, we hope to create awareness and prevent abuse, exploitation, and violence against children."
Adding to this, Seema Jaffer, Executive Director and Senior Key Expert Human Rights and Communications, Huqooq e Pakistan, also provided her opinion on the campaign.
"This campaign is an important step towards raising awareness on prevention of child sexual abuse with the aim to lead to greater protection for the rights of children in Pakistan," she expressed.
Not only is such a campaign a need of this hour, but it also shows that be it any layman citizen or a celebrity of the country, everyone is united to ensure the rights of the children in Pakistan.
We surely are looking forward to Ahsan Khan shining brightly through this campaign, and we bet it'll surely bring about a great change in society!
What do you think of the story? Tell us in the comments section below.