Sure, one might envy a celebrity for the glamorous lifestyle they live, and all the attention they get. But let's not forget that with fame and success also comes the merciless trolls. And you can see it for yourself under the comment section of any celeb. This time, the renowned actor Ghana Ali received trolling over her husband but Ahsan Khan could not handle it!
Pakistani celebs have been the target of vicious online trolls since always. The keyboard warriors, who troll, make deliberately provoking comments in order to get a response from the public figures. However, these people in the entertainment industry are opting for silence no more.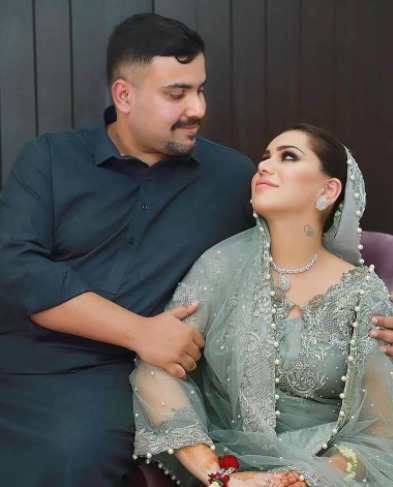 Recently, the newly wedded actor Ghana Ali took it to Instagram to share pictures with her husband. Needless to say, the couple looks absolutely charming in the picture. But a troll could not resist making some attention-seeking comment. A comment under the post read, "Congratulations! Is he expecting?"
Seeing such comments clearly reflects envy, or how badly the person wants to get noticed by the celebrity. Ali subtly shut down the troll, saying, "No your brain is". Ali's response was definitely asked for.
Check out the post!
Ali did her part of giving a befitting reply to the troll. However, the insensitive trolling did not sit well with actor Ahsan Khan. Enraged by the fat-shaming comment, Khan wrote, "What a shameful comment for Ghana Ali and her husband. All the love and respect for both of you dear, stay blessed!"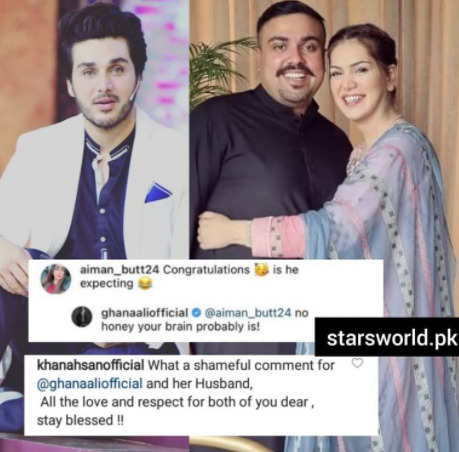 Here's a humble request: Kindly take a good look at yourself before opening your mouth to judge others. Even though the Internet has given all of us the freedom of speech, we are no one to make such shallow comments.
Ali tied the knot recently and shared a few blissful moments from her nikkah ceremony. Soon after the Sangdil star's wedding pictures surfaced on social media, the actor came under fire for marrying a filthy rich man who is already married and a father.
It turned out that her husband is already married. Not only that much he is also a father. It came to our knowledge that Ali's husband is a millionaire and a businessman by profession. A lot of other shocking revelations came to the fore about the actor's husband.
Ali has been subjected to criticism in the past as well. The actor previously received a lot of hate over her dressing that trolls called 'wahiyaat'.
What do you think of this story? Let us know in the comments section below.