Ahmed Shehzad, the controversial player in our national team once again did not fail to disappoint us. His shambolic display on the field has always given us a "facepalm" moment and now he has been caught in a grave controversy.
The news is that the Pakistani national has failed a drug test and came out positive for marijuana. The PCB and anti-doping committee is very vigilant about players not indulging themselves in such activities, and there were many speculations about the player being involved in shady activities. Well, it just got confirmed that he did drugs.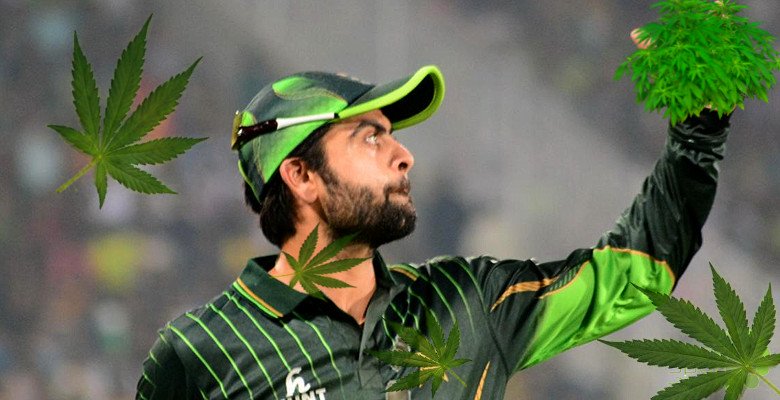 As Ahmed Shehzad tested positive, he is set to face a long-term suspension
People are already speculating that this would the final nail in the coffin, that his career is on the brink of a long-awaited end. Shehzad's consistent shambolic performances have put everyone to shame and we just cannot hide the fact he does not deserve a spot in the team.
Now that he was tested positive, people are coming forward with their reactions. It's a breaking news and it came abruptly and Twitter is into a meltdown. Where people are constantly trolling him, passing humorous remarks on the matter, there are also those who are simply condemning his run in the team so far, demanding an imminent suspension from the game by Pakistan Cricket Board.
Here is how people started reacting to Shehzad's test for positivity…
https://twitter.com/FrDeadpool/status/1009476672566054912
LOL LOOOL LOOOOOOL!
Finally, Ahmad Shahzad can pursue his acting career.

— Tuaha Sohail (@TuahaSohail) June 20, 2018
People simply did not spare him
Ahmad Shahzad Dope test comes out Positive.

Atlast something Positive about him. pic.twitter.com/1hQLEEIAzM

— Ahsan. ?? (@imPakistaniLAD) June 20, 2018
YAAAR. THIS IS EPIC!
https://twitter.com/FrDeadpool/status/1009665472386748416
I GUESS SO
Ahmad Shahzad's supplier should get Tamgha e Imtiaz in acknowledgment of his services to the nation.

— Umar (@Umar_Khan10) June 20, 2018
ABSOLUTE WIN!
Ahmad Shahzad should retire permanently and take up getting high full time, it's a win-win situation.

— Childish Ghambino ? (@Sarkhail7Khan) June 20, 2018
the only scoring Ahmad Shahzad has ever done is weed

— yakobo (@letsdecidelater) June 20, 2018
Pakistan player fails dope test…

Pakistan fans go nuts blaming all sorts of conspiracy theories…

Pakistan fans learn its Ahmed Shehzad…

Pakistan fans saying he deserves a life ban….

— Innocent Bystander (@InnoBystander) June 20, 2018
Ahmed Shehzad & Umar Akmal have been constant source of embarrassment for Pakistan, Waqar Younis wanted them kept away far from the team in his 2015 report. I really hope it's the end of international career for both shit heads.

— Osama. (@ashaqeens) June 20, 2018
Ahmed shehzad cricket career right now: pic.twitter.com/LAwX1GY36P

— Waleed Nasir (@waleednasir00) June 20, 2018
HAHAHAHA
Cricket Kit of Ahmed Shehzad. pic.twitter.com/UDXB2dVpu0

— Krishna (@Atheist_Krishna) June 21, 2018
His fans and followers, especially those who constantly support his inclusion in the team have hidden their heads in the ground. No one can be found anywhere!
How do you guys react to it?