It had been quite a while since Pakistani cricketer Ahmed Shehzad rose to the surface level of news for doing something outrageous. Not long ago, he had been under direct criticism for his performances, his selfies, his attitude, and God knows what…
The sensational superstar whose performances have been questionable lately made an emphatic return against New Zealand. He hit sixes, put a large score on the board and imminently helped Pakistan team achieved the outcome. But that was long ago, especially after what he just surrounded himself with, now.
So, a screenshot from one of his Snapchat stories is going viral like crazy. It features Shehzad and his cute little son, where he has made him sit on his lap while driving. Now, we would normally think it's cute and the father is having a quality time with his son. What we must not fail to realize is how dangerous that could be and how much he is putting his kid's life in the hands of risk.
Here you go…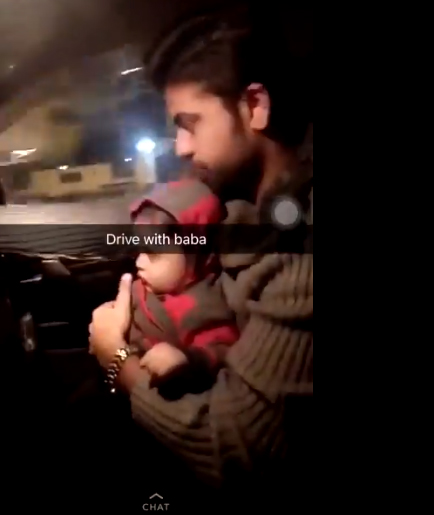 Let that sink in, guys. That's just reckless behavior. Ever since this screenshot got viral on social media, Pakistanis were quick to react and continue to call out him on such an act.
Pakistanis are quite enraged by it and here's how they react…
Absolutely unsafe with no respect for toddlers life.This is not love, pure stupidity & carelessness. I sincerely hope that you are being fined & given a class on child safety.. rubbish to promote such nonsense behavior..

— Asif (@iamasifs) February 12, 2018
Seriously, quite irresponsible
Irresponsible as always,,, kids should always be seated at the back for safety reasons

— Asif Abubakar (@devilpoint18) February 12, 2018
This is so stupid risking the child life without the child car seat the kid should be on back seat we need to educate people child safety is more important than baba,s love

— New Delhi (@jawaidus) February 12, 2018
….
Is this considered a safe behaviour ? We follow West blind folded, this would get him in trouble with the law there.He is a role model and should apologize to his fans for this.

— Mohammed Azhar (@Mohammed_A2har) February 12, 2018
Condemnable on all grounds!
In a more developed world, @iamAhmadshahzad will be pulled over by a cop for putting the child life in danger. #safety is #love .

— Ahmed Ali Khan (@emhawkable) February 12, 2018
Sad to see this. If sportsmen are not following safety than how a common person can understand.

— Farjad Shah (@Shaggy0Wolves) February 12, 2018
This is absolutely disgusting.. a national player is supposed to set example of following the law nd showing care for his son.. rather he is showing breaking the law nd how mean he is to his child.. #Shame

— Rana Avais (@ravais) February 13, 2018
People are quite right here. Ahmed Shehzad has a huge fan following and he needs to be cautious with his actions. He has quite an influence on the masses and any action would serve as an example for people to follow. This one happened to be one of the worsts.
What do you guys think about it?