Ahmed Mujtaba also know as Wolverine by many of his fans because of his physical resemblance to the character, as well as the fact that he has never been defeated in any of his MMA fight. He is a reigning undefeated, 5 wins to 0 losses in his professional MMA career. He also holds the position of silver medalist in the "Pakistan Grappling Challenge 2014" after defeating Waqar Umar fellow Pakistani MMA fighter.
Now He Will Be Representing Pakistan Internationally
The Pakistani wolverine will be facing Indian MMA fighter, Sanjivan Padwal in an international match-up in Malaysia on 28th november. He will be accompanied by fellow Pakistani fighter Faizan Khan who will spar with Susovan Ghosh. We have high hopes for both these contenders in the "ULTIMATEBEATDOWN"
Things To  Look Out For
Mujtab's "MARKHORE" style of fighting; he claims that fighters from Quetta are markhores because they are so aggressive that they want to chew up their opponents. They leave nothing to chance and give their opponents a beating of a lifetime.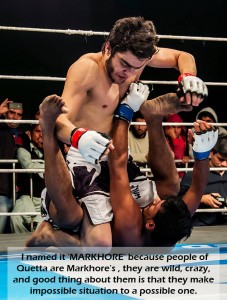 We wish him the best of luck and hope that he makes Pakistan proud in his fight against Sanjivan Padwal in the coming weeks.