Breaking news, famous comedian and actor Ahmed Ali Butt replaces Tabish Hashmi on "Hasna Mana Hai."
Yes, you heard it right, Tabish Hashmi was hosting the show ever since it broadcasted, but now out of nowhere, Ahmed Ali Butt takes a wildcard entry and stuns everyone.
This transition marks a change in the show's lineup, with Ahmed Ali Butt stepping in to continue delivering humor and entertainment to the audience.
Undoubtedly, Tabish Hashmi found his way through the digital platform YouTube, and gained endless success via his web talk show "To Be Honest."
His fame landed him on various talk shows, where he continued entertaining his fans. But all of a sudden, exit raises many questions.
Ahmed Ali Butt Replaces Tabish Hashmi
People don't know how it happened and why? Everyone learned about this breaking news through the social media platforms where Tabish himself tweeted.
The outgoing host Tabish Hashmi welcomed his colleague in a social media post and said the show is in good hands.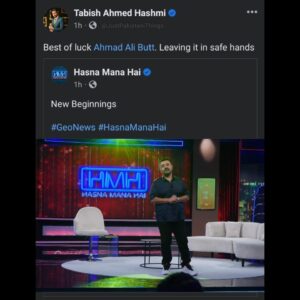 Hasna Mana Hai is a popular Geo Network program. The program has two distinct strands running parallel to one other.
The host must entertain the audience by introducing them to socio-political anecdotes, guests, short skits, strange people, achievers, trivial but tantalizing smaller wins, social eccentricity, literary uniqueness, cultural exclusivity, musical performance, parodying, stand-up comedy, and so on.
While the other strand runs on the floor as the show's main subject – the drama played out by the show's permanent characters.
Pakistan industry's veteran actors and actresses appeared on his show. Legendary icon Bushra Ansari also appeared on Hasna Mana Hai, and revealed that a few parts of  Pakistan Idol were scripted.
What do you think of the story? Tell us in the comments section below.