When it comes to the desi society, many youngsters let go of their talents and dreams which don't 'fit-in' in the parameters of success. Regardless of how outdated the thinking seems, our elders still focus on fields they feel are appropriate for their children – medical, engineering and business studies.
If an individual has a talent, let's say, he or she wishes to pursue their artistic skills of being a painter, the elders would never want them to conquer it (unless you belong to an extremely well-settled and supportive family).
Having this said, safe to say, the fields that revolve around artistry are taken more as a "hobby" in our society and never as a career.
Public Figures Hold Great Impact in Every Society and It Seems Ahad Raza Mir is Using it Well!
The actor who recently rose to fame based on his amazing performance as Dr. Asfi in Yaqeen Ka Safar has a message for those who are told to ignore their talents.
On his Instagram post, here's what Ahad Raza Mir posted:
A message to all the young artists. The actors musicians dancers painters directors photographers and all those who have the need to create in them. You are needed. You are important. Don't let anything get in the way of your passion… whatever it might be. There is no plan B.

And yeah there's a mic in the photo so I thought it would fit the theme. 
#create #workhardplayhard#wearethefuture #passion #plan A
His Fans, Of Course, Loved It!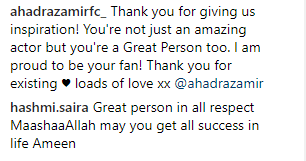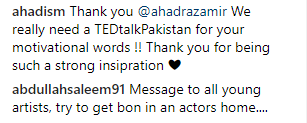 Great to see how a young artist in the same field encourage others to seek their dreams and make them a reality one day.
Public figures like Ahad Raza Mir, who gain proper education and pursue their dreams definitely set great examples for people to follow.