"Ye awaam, ajeeb bewakoof awam hai" – Albert Einstein on Pakistani youth. (Please don't take me seriously)
Pakistan is notorious for celebrating people with questionable deeds and morals while simultaneously blaming the victim for an incident. It isn't uncommon for us to not see objectively what is right and what is wrong.
We recently witnessed an incident where a female news reporter was brutally slapped by an FC guard at NADRA office and suddenly the entire nation started acting as the judge in the situation.
While there were many who were against the slapping, there were a number of those individuals who felt it is totally "okay" to slap a woman as she was "asking for it".
People picked sides. Surprisingly, some claimed that the media should stay in its limits and not harass people and that the reaction was justified and not uncalled for. Some were of the opinion that no matter what, the guard should not have raised his hands on the reporter.
@hassanchoudary @mariamsmadness

I think in US if u grab Security personnel uniform or touch his weapon he has a right to shoot u.

— Mango Man (@AHFarooqui) October 20, 2016
A wave of obnoxious arguments swept across the entire Pakistani internet and this was all that people were discussing. A situation which was clear as black and white was muddied and made vague by the constant justification by the apologists.
What happened next was pretty much expected; people started celebrating the guard as the "Thappar wala" and made him a "sensation".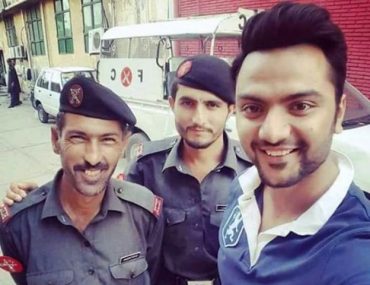 And this was enough to trigger a general consensus of hatred towards the news reporter while simultaneously appreciating the FC guard's actions.
After the great success of #ChaiWala
Now i present to you #thapparwala
?????? pic.twitter.com/FwoK8UeS9c

— daniyaltipu ?? (@daniyaltipu) October 22, 2016
We're Just as Speechless As you Are!
@Phuppho @sweet_kausar @Doctor_House007 @itszoobia @sadiamalik80 @AnumshahSyed#ThapparWala is more handsome then #ChaiWala ???

— شوخئ رندانہ (@Zehraabbas8) October 22, 2016
Her opinion until she gets hit by a man herself
Great ? words ?? #Thapparwala pic.twitter.com/QHmn5cuAyc

— Usman Khan ?? (@usmankpkhan) October 24, 2016
As if words should ever be responded to with physical violence
Exactly.#Thapparwala pic.twitter.com/ylUsLhngUm

— ZamanShaikh (@ZamanShaikh8) October 24, 2016
But amidst the insanity, someone stayed sane
Just saw a selfie of a person with that FC captions "thapparwala" WTF ?? Even. And its going viral. #TVanchorassualt

— Eclipse (@BatoolRizvee) October 26, 2016
Allah Rehem karay!
I think we are almost done as a nation when we justify #ThapparWala and then conclude that #Quetta attack was to stop IK. Guys, grow up.

— Asad Sultan (@AsadSultan18) October 24, 2016