There was heat during India Vs Pakistan and there's nothing new about it. The rivalry between India and Pakistan goes way back and while the players have matured (whether for the sake of optics or genuinely), the rivalry exists politically and between the citizens as well.
On the other hand, we have the cricket team of Afghanistan – playing for the first time in the cricket worldcup. Given the history between Afghanistan-India-Pakistan, today's match between Pakistan and Afghanistan is also a big deal for many.
A Hashtag Trend on Twitter Started During the Match: 'PakistanVsNamakHarams'
During any sporting event in which Pakistan participates, it is common to see it appear on the panel, just like the #PAKvAFG here. However, what's not common is trending of a hashtag which is racist in nature. During the first innings of the match, various Twitteratis tweeted in favor and against the hashtag #PakistanVsNamakHarams.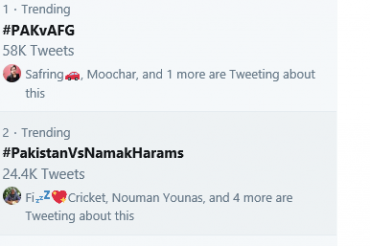 Politics Should Remain Away From Sports and That's About It!
Shame on those who started this trend.#PakistanVsNamakHarams

— Nouman Younas (@Noumaan22) June 29, 2019
You'd Know It
Guys there's a hashtag which people are tweeting on today's match. It's #PakistanVsNamakHarams. So, if you want to know which one of your followers is a racist piece of shit look this up and unfollow them.

— Saad (@SunYaar) June 29, 2019
All of this is not limited to social media only.
Outside the Stadium, Afghanistan Fans and Pakistani Fans Got Into a Huge Brawl
First they started by breaking the entrance gate. The crowd of Afghanistan supporters fought hard against the British security while forcing their way in the stadium.
Supporters of Afghanistan cricket team go violent outside the #Headingley cricket stadium, attempt to break down security gate, throw bottles at the security team manning gates, police makes two arrests for violent actions #PakVSAfg pic.twitter.com/T1cj8yF2q2

— Murtaza Ali Shah (@MurtazaViews) June 29, 2019
On the Other Hand, the Afghanistan and Pakistan Supporters Got In A Physical Fight Outside Leeds Stadium
Supporters were seen throwing fists and material things at each other when all of this got ugly.
Afghanistan fans beating a supporter of Pakistan cricket team outside the cricket stadium in Leeds. ?
#PAKvAFG #CWC19
Via: Azhar Javed pic.twitter.com/ZTlGNW5Tz5

— Danyal Gilani (@DanyalGilani) June 29, 2019
Before These Two Incidents, a Plane with 'Justice for Balochistan' Slogan was Flown Over the Stadium
"JUSTICE FOR #BALOCHISTAN": another plane in the sky during #PakvsAfg World Cup match at the Headingly Stadium, Leeds. #EndEnforcedDisappearances pic.twitter.com/4actrTD9a6

— BRPبلوچ رپبلکن پارٹی (@BRP_MediaCell) June 29, 2019
The plane in its second run over PAKvAFG match in Leeds, trailed a banner that read "Justice for #Balochistan".

Few More Pics.#EndEnforcedDisappearances pic.twitter.com/gKyriXdErs

— Jammu-Kashmir Now (@JammuKashmirNow) June 29, 2019
As mentioned before, sports should be kept away from politics. All of this leads to visible hatred that is dispersed in the essence of the game as well, which we got to see during this match among the supporters as well.
Let's wait and see how the British security takes action against these various acts that we got to see during the match.