Pakistan's 'Defence Day' promised a lot of emotions and prideful moments for parents and families of martyred souls, to the one's who have served this beautiful country, Pakistan.
However, this day is made to remember the brave souls who sacrificed their lives for this nation to prosper and stay safe from evil, indian citizen Adnan Sami surely knew how to damper the mood.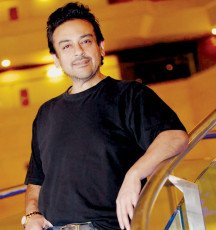 Taking to Twitter, Sami tweeted about how much he is angered and disappointed for not being invited to Pakistan's Air Force Ceremony; his petty excuse was that, since his father had served in the Pakistan Air Force, hence his mother must be given the same respect.
Well! Not only is this claim illogical, rather it is extremely offensive. It seems Sami like Kangana Ranaut somehow has a craze or obsession with Pakistan.
Apparently, without defaming Pakistan, it seems both Sami and Ranaut might get their nationality canceled! Well, we have a message for Sami too!
Twitter becomes a war zone for Pakistanis & Indians
The minute Sami posted his tweet his social media was bombarded with Pakistanis teaching him a good lesson about minding his own business. From schooling to trolling things took a turn for the worst, and Twitter became a battle zone for Indians and Pakistanis.
O bhai, so as PAF right to chose whom they invite or not!!
You are free to chose whatever you want, but others didn't?? Get a life man!!! Pakistan zindabad.. ???

— MFK Photography (@MFKPhotography1) September 8, 2020
The best part was Pakistanis made sure to send a clear and concise message to this indian citizen one and for all.
With all due respects to your father having served his nation, I see nothing wrong in the Pak Govts conduct. While you do have complete liberty to choose your citizenship, the Pak Govt is well within rights to refuse an invite. All said and done, but the nations do not get along

— ⚓ (@berozgaarvakeel) September 8, 2020
Simultaneously, Indians started to support Sami for his views and ways of defaming Pakistan.
However, Pakistanis made sure to send all these trolls back home. Hilariously, some Pakistanis even used this opportunity to make fun of Major Adnan Sami,
All in all, all we have to say to Pakistan is that yes we do respect your father for his services and sacrifices for this nation, however, that does not mean that we hold the same emotions for you!
If there is anything we really want to tell you dear India, its to mind your own business and stop interfering in Pakistani matters once and for all!
Pakistan loves its martyrs who lost their lives for the homeland and most importantly, served it lovingly. We don't need to take notes from you on patriotism, at least. Pakistan Zindabad!
What do you think of the story? Tell us in the comments section below.