Shaan Shahid has been clear on his working objectives regarding the film industry. He has often dissed the Pakistani entertainers who worked in India, only because he believes that the Pakistanis should show put Pakistan as one of their topmost interests.
The actor has been the part of the local industry for years and has worked in all sorts of entertainment pieces. From giving core Punjabi hit films to giving a stupendous performance in Khuda K Liye, Shaan Shahid has embedded his name in the Pakistani film industry.
Recently, his Newest Film Arth Released All Over Pakistan
Wishing my friend Hammad @hammad_c and team all the best for #ARTH. In Cinemas Today! Trailer: https://t.co/lgkW3PYTM0 pic.twitter.com/FR40cwda9b

— Chris Gayle (@henrygayle) December 20, 2017
Pakistanis did not show much anticipation on going to the cinemas to watch the local entertainment pieces but those who did, they loved the film and especially the songs in it.
One Of the Worst Christmas Weekends of recent years at boxoffice!! No pick even on Saturday as Both local releases having very low occupancies!! #Arth #Rangreza

— Boxofficedetail (@boxofficedetail) December 23, 2017
Arth movie has the best songs ever! Every song has its own feel. All songs are on repeat @mshaanshahid https://t.co/ehEdkxATmt

— Mansoor Khoso (@mansoorkhoso) December 25, 2017
So the Actor Highlighted How the Movie Got Negative Remarks from Karachiites
Shaan believes that because the movie was made in Lahore, critics from Karachi have given Arth negative feedback.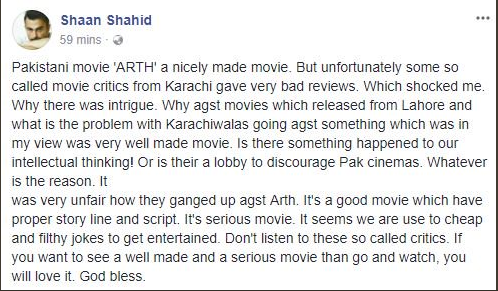 This Flared Some Pakistanis for the Right Reasons
What a fucking dick. Stop making movies if you are so touchy about criticism. @mshaanshahid pic.twitter.com/8DvnXAJLBV

— Shumail (@Shumyl) December 25, 2017
Despite how Shaan has always spoken against those Pakistanis who worked in India, working in the remake of an Indian film contributed to the anger he was receiving. He later deleted this status as well.
Shaan Stated that it his Management Who Runs the Account and they Just Posted What the Journalists were Saying
My Managment Handel's the account and this is not what we wrote but a local journalist wrote it and we posted it

— Shaan Shahid (@mshaanshahid) December 25, 2017
Shaan Interacted with the Pakistanis Who were Commenting on the Film in a Disgraceful Manner As Well
A tweeted he later deleted…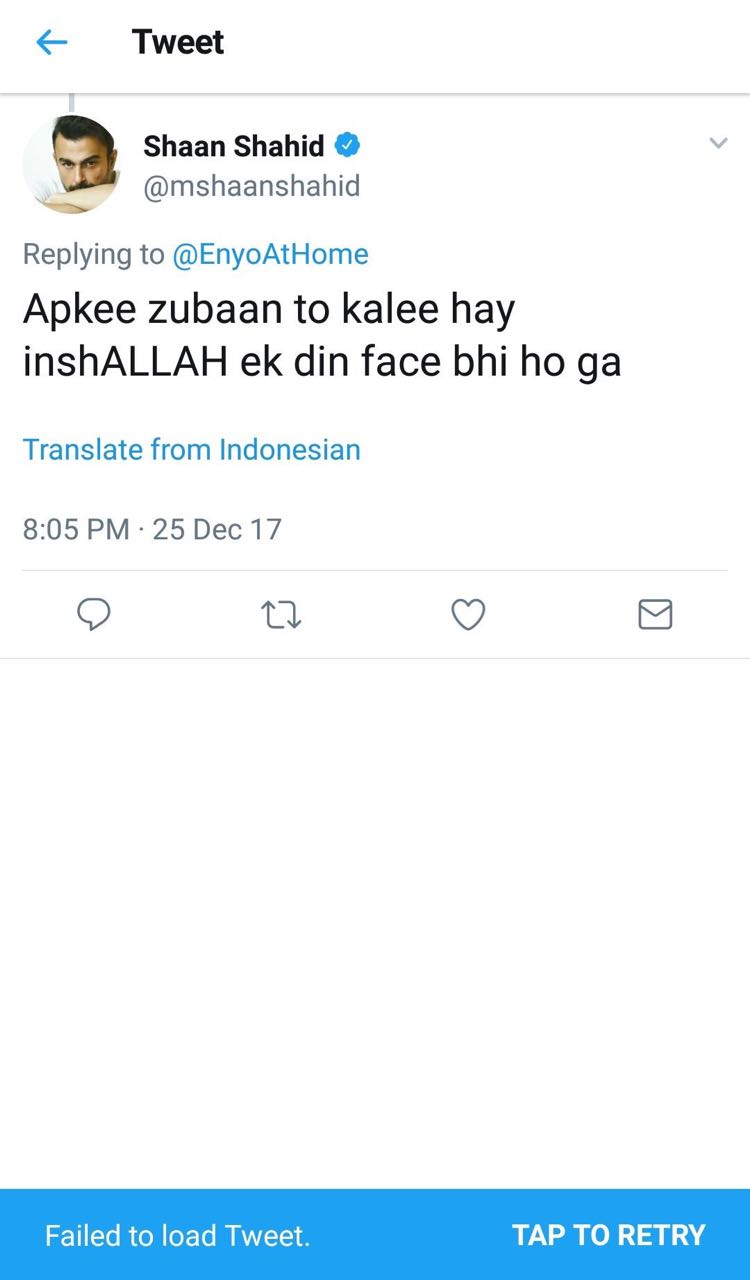 And Continued for a While
Because comment sense is not very common

— Shaan Shahid (@mshaanshahid) December 25, 2017
Watch your words

— Shaan Shahid (@mshaanshahid) December 25, 2017
Even if it is the management that runs his account, an actor of his position and status in Pakistan approving such posts on his feeds is disappointing.
Let's see what Shaan Shahid has to say about the all the words he or his management had been uttering. One thing is clear; the way he is handling the criticism is not very mature.