One of the most anticipated royal TV series "The Crown" was released and left everyone with various questions.
As per the makers, it's the show's last season and holds some of glamorous scenes that make everyone appreciate.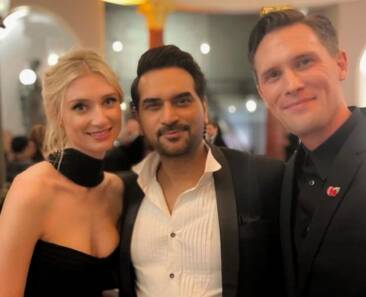 But before its release, the show grabbed everyone's attention on the red carpet in London at the premiere of the show, and there the Pakistani actor Humayun Saeed shined with his co-stars.
Yes! Humayun Saeed made it to the Crown show where he played Dr. Hasnat Khan and received loved from the fans.
Humayun Saeed Shining At The Crown's Red Carpet
Humayun Saeed joined his co-stars at the premiere night in London, where the cast and directors gathered for the mega night.
The actor took a few selfies, graced the red carpet, and shared moments from the event on his Instagram to keep fans back home updated.
Humayun is a series of pictures with Elizabeth Debicki, who plays Princess Diana in the latest installment, alongside others. He captioned the post, "Indeed a great pleasure to interact with my co-actors and crew at the premiere in London last night. The Crown season 5 is now available to stream on Netflix!"
Feel Privileged
Humayun Saeed looks dap in a black tuxedo, donned over a pleated wing-tip white dress shirt with a bow tie.
He captioned this post, "Feel privileged and honored to be part of The Crown team. Thank you all for your warm wishes, congratulatory messages, and appreciation. Means the world to me!"
Fans were super excited when Netflix announced that Humayun Saeed had been cast in the Show and left them in happiness.
What do you think of the story? Tell us in the comments section below.