A Burmese man has been arrested for shackling his daughter and beating her like an animal. The incident happened in Saudi Arabia. The abusive father filmed the ordeal and posted it on social media.
The father has confessed that he tortured his 11-year-old daughter with a whip after tying her with ropes, said Gulf News.
The man reportedly said his act was blamed on his sister. She had allegedly run away from the house. Why? Because she cut his daughter's hair without his permission. The man forced her mother to film the clip to be sent to his sister.
A local public prosecution said the Saudi child protection law criminalizes parents who do not provide their children with proper family supervision and care.
WARNING: Some viewers may find the content of this story disturbing. Viewer discretion is advised.
Saudi child protection law
According to Gulf News, Article 4 of the Saudi child protection law criminalizes parents who don't furnish their children with proper education.
Saudi parents are responsible by law to provide schooling and to create appropriate studying conditions for their children. Parents are also responsible to help them learn and to protect them. Any parent who stops their child from getting an education can be charged with abuse and neglect.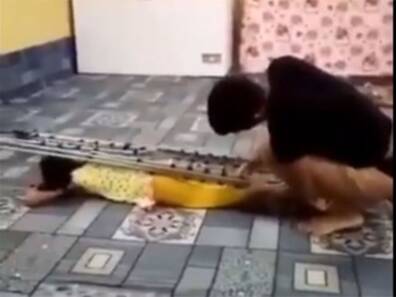 The child protection law was issued in 2014, to protect children's rights in Saudi Arabia. The law states until the age of 18 a person is considered a child who needs to be protected from all kinds of harm by family members, school, care homes, and public places.
Parents in Saudi Arabia must get their children formal identification papers, education, and vaccinations. Giving them a safe home is also their responsibility. If anyone fails to do it, he or she as a parent can be charged with neglect.
It is shocking to see parents abusing their own children. A video of a father went viral last year for beating his adult daughter. Similarly, a woman in Karachi made headlines for torturing her stepchildren for months. She used to chain them without food and clothes.
What do you think of this story? Let us know in the comments section below.