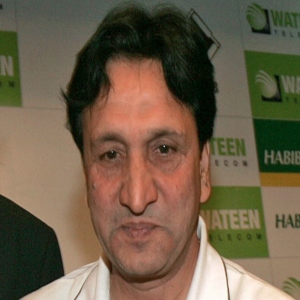 Abdul Qadir was a legendary leg-spinner who played international cricket for Pakistan. He acquired the role of commentator and chief selector for PCB later in life.
The 1970s and 1980s have no better leg-spinner than Qadir. He was the role model for the current leg spinners and for the ones to come in the future. The great legend, born on 15 September 1955, was a mentor to many including Shane Warne and Mushtaq Ahmed. Qadir is also regarded among the ones who kept wrist-spin alive. He was also regarded as a magician for his bowling technique as his hand was quicker than the eye could see.
His valuable contribution to Pakistani cricket wasn't over even after his playing career had ended. Qadir used to run a private academy outside PCB Headquarters, Gaddafi Stadium.
Imran Khan, former captain of Team Pakistan had a great influence on Abdul Qadir's career. He even asked Qadir to keep a French beard to have an impact on the opponent team players. Imran took out the best in him.
However, if there was one team he couldn't take down with his genius it was India.
Personal Life
Qadir was born in Lahore, Punjab, Pakistan and stayed there until his last breath. He had a brother named Ali Bahadur who was no less of a cricketer himself. During the 1980's he appeared in 10 First-Class Matches also as a leg-spinner like his brother, Qadir.
The cricket legend was blessed with three sons who also turned out to be born with a passion for cricket. Rehman Qadir, Imran Qadir, Sulaman Qadir, and Usman Qadir all served years in the first-class competition for different Pakistani teams. The younger one among them, Usman Qadir, has played in 12 A list matches.
He also has a daughter Noor Amna who is married to the Pakistani right-handed batsman and part-time spinner Umar Akmal.
First-Class Cricket Career
Abdul Qadir's career in first-class cricket is full of wonders. He played it for Lahore, Punjab and Habib Bank Limited Teams and left people amazed. On twenty-one occasions, the legendary leg-spinner managed to take more than ten wickets in a match and seventy-five times he took five or more wickets in an inning.
His debut matches were with Habib Bank against United Bank. The matches took place at the national stadium between the years 1975-56. He played a great number of 209 first-class matches, taking 960 wickets while maintaining an average of 23.24. Qadir ended his first-class career with his last match in 1994.
International Cricket Career
Test Matches
Qadir is considered as one of the best cricketers of the era. He not only kept the form of obsolete leg-spin bowling but also had a distinct run-up and a great variety of deliveries.
The test debut of Qadir was against England at Gaddafi Stadium in 1977. The English batsman had a hard time with the googlies and leg-breaks of the legendary leg-spinner. However, his bowling didn't see much success in that match in terms of wickets as he was only able to take one down. But in the second match, he got above the Englishmen and took 6 wickets for 44 runs. With taking down 5 more wickets in the following two matches Qadir earned himself the title of the highest wicket-taker of the series.
In the second test match of Qadir's career, he gave a performance that was unbelievable. Qadir took 10 wickets in the series played in England ending it up with an incredible average of 40.60.
Qadir's passion and aggression for cricket made it possible to cross all milestones as he went forward in his career. His performance lead Pakistan to many wins where team Pakistan even managed clean-sweep big teams like Australia.
1987 was the year when Qadir reached new heights with his balling as he took 30 wickets for 437 runs against England. This was the 7th best performance of any team in test matches to this date and the best against Team England by any bowler. His last test match was at Gaddafi Stadium against West Indies in 1990.
One Day Internationals
Qadir, the legendary leg-spinner played his debut match in One Day Internationals was against New Zealand in the cricket world cup of 1983 where he took 4 wickets in 12 overs. This performance earned him the award of the man of the match.  In the tournament, he took a total of 12 wickets ending it up with a bowling average of 22.0. Later in 1983-84, Qadir took 15 wickets in 8 matches of the World Series Cup at an average of 18.13. He also became the highest wicket-taker in this form of cricket in the 1987-88 series taking eight wickets achieving an average of 13.17.
The total number of ODI matches that Qadir played during 1977–93 was 104. During the course of his career in ODIs, he took 132 wickets and scored 641 runs.
Captaincy
Qadir played as a captain for Team Pakistan in 7 matches. But it turned out that the greatest player in the history of Pakistani cricket wasn't so good at captaincy. As out of all 7 matches he captained, only one match that Pakistan played against Bangladesh was won. 5 of these 7 were test matches and two were ODIs. The first time Qadir tried on captaincy was against England in the absence of Javed Miandad, the regular captain.
Chief Selector
Abdul Qadir played the role of a chief selector in 2008 replacing Saleem Jaffar, former fast bowler for Team Pakistan. He was assigned to select the team for the series against India which was later cancelled due to the deterioration in the relationship of the countries. He was later given the assignment of the homecoming series with Sri Lanka, arranged in compensation of the series against India, which was also abandoned due to the attack on the Sri Lankan Team in Lahore. In the following year, Qadir resigned from his role without sharing any concerns with the authorities.
Death
The legendary leg spinner left the world at the age of 63 on 6th September 2019. He passed away from a cardiac arrest in Lahore. He was an inspiration and mentor for many other cricketers who were deeply saddened to hear the news of his demise. PCB gave him a tribute, the chairman calling him a "maestro with the ball". While Prime Minister and former cricketer Imran Khan called him "a genius, one of the greatest leg spinners of all time".