In the news once again is controversial TV host Dr. Aamir Liaquat Hussain, but this time it is his third marriage. Now that Aamir Liaquat has announced his third marriage, the 49-year-old has shared a video of him and his third wife in bed.
In a not-so-surprising move, Liaquat took to social media to announce he tied the knot (again) Wednesday night. The news came less than 24 hours after Syeda Tuba Anwar announced her divorce from Liaquat.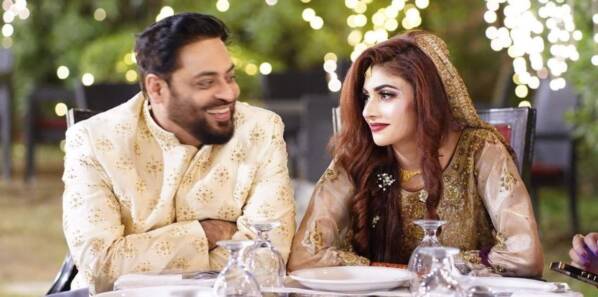 Sharing the news of his marriage on Instagram, the PTI MNA revealed that he tied the knot with an 18-year-old named Syeda Dania Shah.
An hour after announcing his marriage to a teenager, Aamir Liaquat went on to share a video of him in bed with his wife Dania. "New Journey of love and care," read the caption. "Will do again what I did and hope this time it will become a rhyme." He also tagged several news publications.
Have a look at the video:
Upon receiving criticism over sharing the video, Liaquat posted a message for those who are trolling his third marriage. With a picture of himself, the 49-year-old penned down a message.
"News of my third marriage is spreading like wildfire in Australia," he wrote. "You can be jealous all you want, and a video of a husband and wife does not necessarily have to be from their suhaag raat [honeymoon]."
"I would also like to add that everyone can now get back to their work of gossiping, speculating, and spreading rumors," he concluded.
"Last night [I] tied [the] knot with Syeda Dania Shah, 18," he announced earlier today. "[…] I would like to request all of my well-wishers [to] please pray for us, I have just passed [through a] dark tunnel, it was a wrong turn."
Could the "dark tunnel" Liaquat is referring to be his split from Anwar? Your guess is as good as ours. By the way, Liaquat's marriage announcement was not the first post on his Instagram featuring Shah. He had been posting pictures of Shah well before this, hinting at something "coming soon" and "on the way".
Here are a few of those:
Despite his constant claims that everything was going well between him and his second wife, who has now confirmed their divorce, it appears that nothing was going well. In a nutshell, it seems as if Liaquat will do anything in order to stay relevant.
What do you think of this story? Let us know in the comments section below.