Aamir Liaquat is no stranger to most Pakistanis. He made a name for himself by hosting dozens of TV shows, both religious and otherwise. He also had his name spread by other, more controversial, means.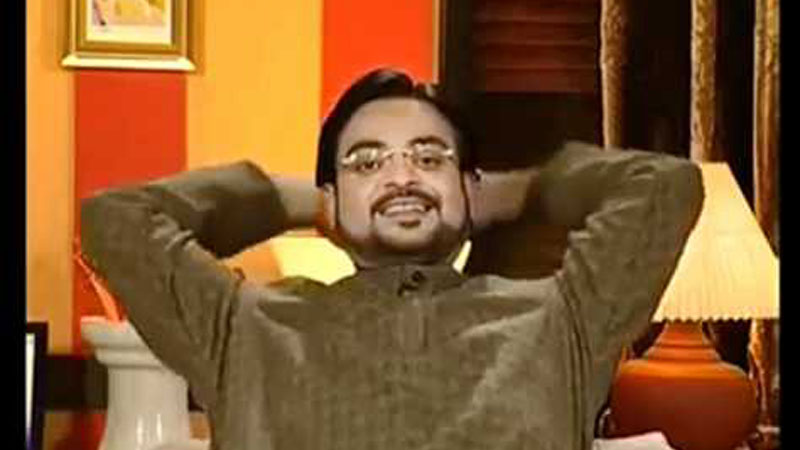 But that's something else. This controversy was about a horribly sexist and disgusting tweet that he posted in reference to Sherry Rehman.
You hv deleted yr tweet within minutes bt internet doesn't forget bigots like you @aamirLiaquat you can't easily get away with it. @PTIofficial @ImranKhanPTI @ArifAlvi @ShireenMazari1 @Asad_Umar you ??all of you, think twice before he sits in the parliament under PTI's umbrella pic.twitter.com/TD97d6E9KQ

— Nighat Dad (@nighatdad) August 1, 2018
Aamir Liaquat deleted the Tweet a few minutes after posting it but you can clearly see the type of post it was. Disgusting, sexist, and misogynistic. And this man is a Member of the National Assembly now.
Twitter did not waste a second in picking up on his terrible actions. Sherry Rehman herself replied to the post, criticizing Liaquat for his crass and tasteless humor.
For all tastelesstweeters who post salaciously cropped photos or make inappropriate remarks about women in politics,I feel your pain when u are asked to delete.But,none of these dirty tricks deterred SMBenazirBhutto. She taught me to make my words count,not the state of my veil.

— SenatorSherryRehman (@sherryrehman) August 1, 2018
This response is what made Aamir Liaquat delete his Tweet and post an apology.
Twitter didn't delete my tweet, I deleted it myself cause I later realized it might look bad for you. I have respect for you because of the issues you raised in NA when I was there too. It is a misunderstanding, I was targeting MMA Owais Norani, not you.I apologise @sherryrehman

— Aamir Liaquat Husain (@AamirLiaquat) August 1, 2018
But people didn't accept his apology for a second. Was there no other way to criticize the MMA other than being disgusting and sexist? When politicians do these things, it makes the rest of the nation inclined to follow them. Why would someone post this and propagate a patriarchal and misogynistic mindset?
But of course, Aamir Liaquat kept trying to justify it in the exact same way.
سب کے مشورے پر ڈیلیٹ کردی مگر یاد رکھیں ایم ایم اے نے خان کو یہودی کہا ہے اور اس کا جواب بہرحال دینا ہوگا

— Aamir Liaquat Husain (@AamirLiaquat) August 1, 2018
What does MMA calling Imran Khan "a yahoodi" have to do with Sherry Rehman? And why did he make that disgusting remark about her while criticizing the MMA? It literally makes no sense and people can see through it.
Damn. You still want to keep that half part of your sexist joke. Apologies are never conditional or half.

— Akhter Iqbal Khan (@AkhterIqbalKhan) August 2, 2018
What use is an apology if you still don't learn your lesson?
PTI sweeped Karachi. Was a bigot, sexist and misogynist @AamirLiaquat really required to win one seat?

— Karachi LAD کراچی لیڈ (@KarachiLad) August 1, 2018
Honestly, I don't know. But if he keeps up his current behaviour, I wish PTI hadn't chosen him to run in the elections. We have enough misogyny going on already to allow people like him to do the same.