Aamir Liaquat is one of the most controversial faces in the current slot, who don't miss a single chance to become the headline of the day.
For the past few weeks, he's been on the headline for several reasons, especially his ridiculous messages to former PM Imran Khan and controversial talks.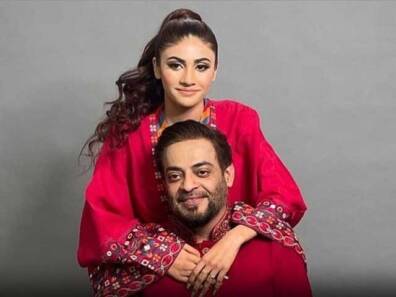 But recently a lot of rumors spread all over the internet that Aamir Liaquat Hussain and Hussain and his 18-year-old wife, Syeda Dania Aamir have parted ways after sudden two months of marriage.
However, the couple both took the stand and cleared the air of the rubbish gossip spreading all over the internet.
Aamir Liaquat Hussain & Dania Aamir not separated
Back in February, Aamir Liaquat tied his knot to the 18-year-old Syeda Dania and announced his third marriage on Instagram. He wrote, "Last night, tie [the] knot with Syeda Dania Shah, 18." He went on to add, "She belongs to an honorable Najeeb ut Tarfain "Sadaat" family of Lodhran, South Punjab."
But for the past few days, there have been rumors roaming around that Aamir Liaquat and Dania Aamir separated and are no more together. To clear the air, first Aamir Liaquat took the matter on Instagram where he wrote, "I vehemently deny all the rumors that PTI and its mercenaries are spreading that I have parted ways with Dania.
We love each other immensely." He went on to threaten the said party and wrote, "I warned PTI and their rented goons. Don't enter my home, otherwise, nothing will be left."
He also threatened the gossip netizens, that he will take legal action. Aamir commented that he is in touch with the FIA to arrest certain journalists and social media page admins who are spreading fake news of his divorce from Dania.
Dania is Aamir, Aamir is Dania
"Rumours are rumors. We will not allow anyone to spread false news. Aamir is Dania and Dania is Aamir, full stop," Dania shared on Instagram. In the same post, Dania shared a video as well.
In the said clip, she said, "I am Dania Aamir and we [Aamir and Dania] are one." She went on to add, "We haven't separated. Please stop spreading rumors."
With that message, it's clear that they aren't separated and enjoying a happily ever after.
What do you think of the story? Tell us in the comments section below.