There was once a time when Pakistan was struggling to come in the list of emerging markets – the lack of resources and the dropping literacy rate was alarming for our country to reach the levels of prosperity. While the rest of the world, given the resources they had continued mounting opportunities after opportunities, Pakistan was way behind in education and awareness.
Years later, Pakistan finally manages to break the deadlock with now being a part of the emerging markets present worldwide. Much of the credit goes to the increasing literacy rate; the youth being more aware and investing in gaining the education.
However, given the abundance of resources, the job market in Pakistan continues being saturated with fresh graduates not having the opportunities to make their ends meet.
After spending four years of education and paying the expenses of acquiring a degree which allows them to enter the job market, the young dreamers are neglected in the job market. Reasons? Not having a good sifarish. Not having years of experience right after graduation and other reasons which open no door for these fresh graduates.
This Can be Seen in the Case of Fresh NUST Graduate Aizaz Ali Who Committed Suicide after Not Getting any Job
24-year-old Aizaz from Rawalpindi, Pakistan was already seeking help for his depression which was caused due to not landing a job after graduating. Aizaz pulled the trigger of a gun on his head and shot himself twice in the head.
His father revealed that the young mechanical engineer graduate from NUST was already undergoing therapy as sitting idle was affecting his mental wellbeing. On a Friday afternoon, Aizaz locked himself in the room and shot himself to death. According to the police, he died on the spot.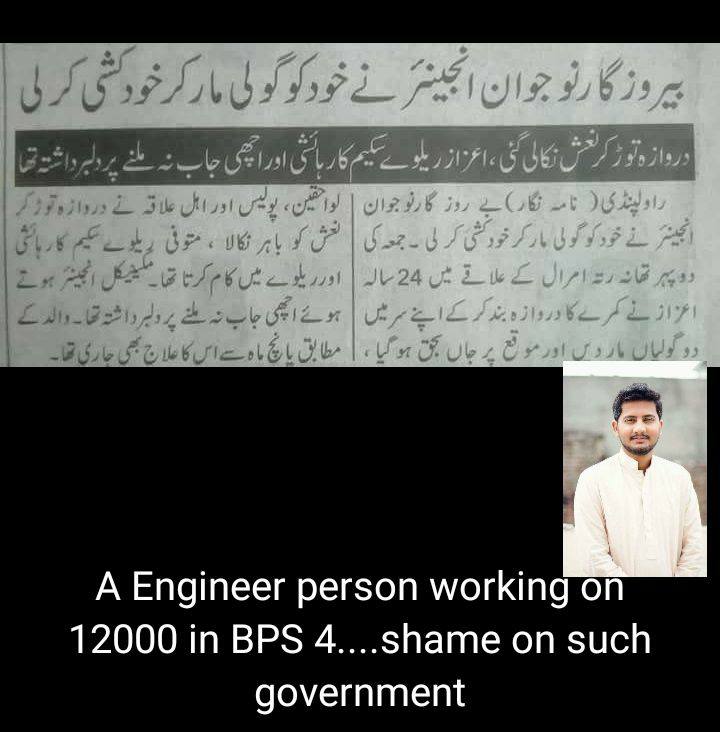 Years of investing yourself and your money in education and not getting an opportunity to utilize it affected Aizaz to the core that he took his own life away.
Engineering is one of the most important fields in terms of the prosperity of a country. Pakistan, on the other hand, witnesses an increasing number of engineers who graduate every year. However, due to not exploring our resources and due to the corruption in the system of getting jobs, students like Aizaz take drastic steps after being depressed.
For those going through a rough patch in their lives: Stay strong. Have faith in yourself and in Him. Don't give up.