Disclaimer*: The articles shared under 'Your Voice' section are sent to us by contributors and we neither confirm nor deny the authenticity of any facts stated below. Parhlo will not be liable for any false, inaccurate, inappropriate or incomplete information presented on the website. Read our disclaimer.
Islamabad shall stay beautiful if we protect it from the wrath of uncontrolled advertisers and their rampant profit making activities at the cost of citizens' well-being and interest. We are happy to have a Mayor, and it would be interesting to see the Mayor in action for something that has bothered the citizens of Islamabad from sectors of F-10, F-11, E-10, E-11 and anyone who crosses the Margalla Road Intersection next to the corner of F-9 Park.
For those who know what I am talking about, there are two massive 'eyesore' billboards that have been erected at this beautiful junction. These billboards block citizens' direct view of Margalla Hills. CDA has been justifying this atrocity by saying that 'blinking boards' are exempt and don't qualify under the law.
Some serious advertisers like Hardees, Everyday Milk, Jazz, Sting, Lawn Ladies and Toyota have supported this (I have stopped drinking everyday milk and eating Hardees since- I don't wear lawn, to begin with!). Some Capital Resorts, real estate developer seems to be the new advertiser nowadays.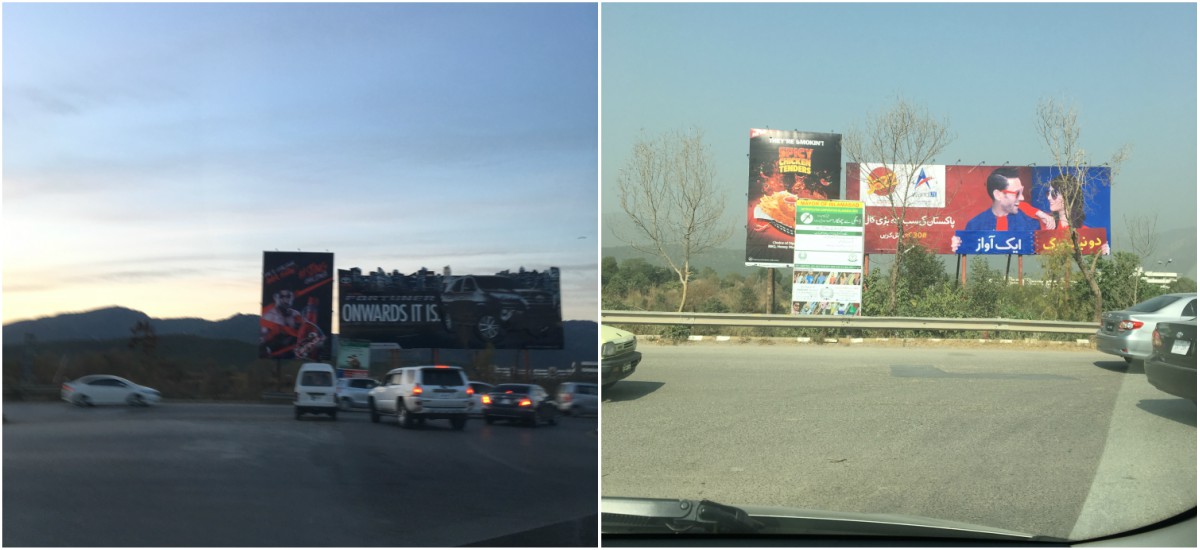 God himself recognized the citizens' anger and in the recent rains, this billboard was torn to pieces with the wind gusting through it. However, the men behind this atrocity towards Islamabad have not registered this Godly sign, and have re-erected the eyesore (you can see the junction now). I started praying again for a massive wind to blow this away again, but then I thought I should write a petition to the Mayor Of Islamabad and raise this issue on earth as well.
Dear Mayor,
Check how come CDA has been justifying this billboard, and what is this nuisance of putting two lights in the range rover ad and then claiming that this is a 'Blinking Board", just to avoid charges of the billboard law. Let's stop playing games and remove this. The court should also take a notice and inquire who is eating all the revenue from these billboards at the cost of citizens' extreme displeasure.
Poor us, we can't buy Elan or the apartments or the range rover, and now we have to see all these things every day when we very dearly loved looking at our beautiful Margalla Hills, which we could climb regardless of how less or how much money we had!
Islamabad's a bautiful city and it has got mountains and trees, if we deprive Islamabadis of these two beautiful blessings of God, we will have angry citizens of this young city. We saw Lahore and Karachi change because of lack of implementation of regulation and now you can't even see the teen talwars because they hide behind lawn ladies. Do we want that future for Islamabad as well?
While the world is moving towards removing billboards from everywhere and relying on Facebook, Google and other mediums of advertisement, our intelligent administrators have decided to fix billboards for earning city revenue. There are thousands of service delivery ways a city can raise revenue, Islamabad, in any case, has a federal backing – why do we need to destroy our city's basic fabric of the proximity of nature by building billboard walls?
I don't even know how stupid Everyday, Sting, Hardees, Jazz, Elan, and Toyota brands have been for paying money for billboard advertisement in Islamabad. This will only hurt their brands – I never hated Everyday milk, in fact, I loved it. Now I am just reminded by how they supported an ugly billboard that blocked the view of Margalla Hills and I'd rather drink milk less chai.
That being said, I hope Mayor Sb. you take this seriously and call an action on it. I also hope people don't harass me personally, it's not about me and you. It's about a city and its future. If you agree that the city should NOT have a future filled with ugly billboards support this petition if you don't – then don't fight me, I am just a regular citizen raising a regular request to be able to see the Margalla Hills as I used to.
These billboards are already making me suffer, I don't need more of that in my life.
Please sign and share this petition with others as well. Here's the link: https://www.change.org/p/mayor-of-islamabad-islamabad-has-the-right-to-see-margalla-hills-directly-remove-margalla-road-billboards?source_location=minibar