Disclaimer*: The articles shared under 'Your Voice' section are sent to us by contributors and we neither confirm nor deny the authenticity of any facts stated below. Parhlo will not be liable for any false, inaccurate, inappropriate or incomplete information presented on the website. Read our disclaimer.
With the passion for exploring new places every weekend, I have visited many spots in Karachi and another metropolitan of Pakistan. Ine fine weekend I decided to visit a place I had already heard much about through my friends who were the regular visitors. I just kick started the bike and set out for it along with my roommate, without acknowledging that it would be a place which has much more to offer than just a coffee, sandwiches and comfortable sitting.
Finally, using the Google map I reached the much heard of place which had an entrance through the small door. Still being unsure if we had reached rightly while parking my conventional bike, I asked my friend who was accompanying me to confirm it from the unarmed security guard if this was the place and if it was open that day. We were lucky enough to get the response as GEE GEE BILKUL!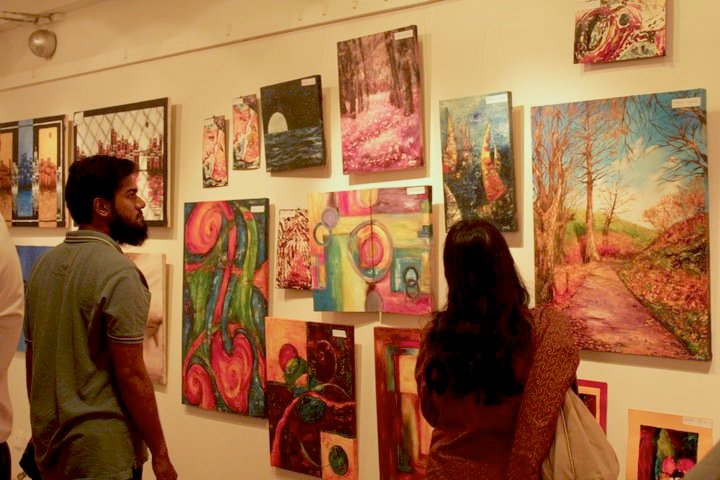 Entering through the small door, my first glimpse was on the plenty of paintings and artistic work beholden by the white walls. Everything placed very rightly and forming some aesthetic sense which voiced to you quite audibly that this was the place welcoming the intellects, people from diverse backgrounds and experiences who are open to some good and sensible dialogues, conversations or discussions.
It created some mesmerizing sense to see some enough space devoted specifically to the art gallery arranged with small sitting along with the bookshelf which we later got to know was actually a small book stall where you could purchase any book once you have gone through the contents of it. Besides, there was some good collection of Pakistani classic ghazals, qawwalis and some traditional handicrafts with amazing ceramic designs.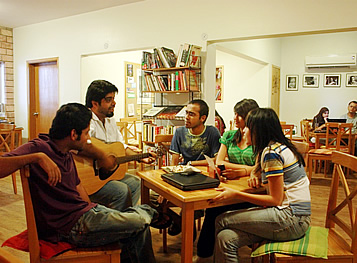 We rushed for the café after seeing the direction besides the staircase to explore what it had to offer. It was something ahead of a conventional restaurant and café with frosty temperature and comfy wooden sitting. Though the space designated for café was small, it accommodated a good number of people who were sitting over there.
We saw no one chitchatting on casual topics and every hand was occupied with some edifying stuff like laptops, books or magazines. Mostly, the groups of boys and girls seemed to be from reputed universities who were quite busy in their academic discussions that they did not notice anyone entering or leaving the place. They were just on their own.  Some reading novels, while others working on mathematical equations using calculators and few discussing socioeconomic issues.
Sabeen Mahmud, the progressing human rights activist and founder of T2F, who was unfortunately shot dead few years back, Raised "BRING YOUR MIND" as a slogan for t2f, keeping in mind that the place welcomed diversity and anyone who is open to talk and express some sense. The walls of t2f were showing the unconditional love for Sabeen as every wall either had a picture or her quotation which could still let you feel her presence.
After having tea we paid the bill and left the place with some good experience and thought to keep visiting it. There should be more places like this where people regardless of age and gender could collect together, sit back and invest their time into something that has a good return.